Taylored Expressions is releasing the first kit of 2023 today–and it is appropriately COFFEE!! And tea and all the good things in a mug!
This kit is called Perk Up Cardmaking Kit and it is perky! ☕☕☕
First up, I had to use the cute faces and of course, add some eyes… just one set. I kept myself in check. 🙂 For this I used the Cup of Joe die collection. This is fun because you can have the handles go either way. 
The little face stamp is from the Clearly Crafty Hug in a Mug stamp set. Both of these are included in the kit.
Next up, I used the Perk Up! Stamp & Stencil Combo set to create this card. I inked up the panel and trimmed it down a little bit. I added all the little elements with the Clearly Crafty Hug in a Mug stamp set again. The Simple Strip is from the new Simple Strips – Coffee stamp. This set can be purchased in addition to the kit. 
For this, I used Cupcake, Dijon, Mushroom and Poblano Pepper Inks. I don't know how I got to the color combo, but I have to say, I am surprised at how much I like it now! 🙂
This sentiment cracks me UP! I think this is often true… especially when I travel, and I don't have the same creamer we use at home. 😂
I added the strip of Cupcake cardstock on there to finish off the two panels and added a panel cut with the Petite Scallop Rectangle Stacklet on the bottom after cutting this panel with ADDITIONAL A2 LAYER STACKLETS. Too fun–such a fun kit!
.And don't forget the envelope seals! 🙂
Here's the scoop from Taylored Expressions:
Perk Up! Stamp & Stencil Combo set
Perk Up! die collection
Clearly Crafty Hug in a Mug stamp set
Cup of Joe die collection
Coffee Create Repeat stamp set
The Insiders – Coffee panels
Most kit items are not available to purchase individually.

Limited quantity available

To be notified of new kit releases, be sure to subscribe to our newsletter and follow us on Facebook and Instagram.

All these products are available now over at Taylored Expressions. See my links below  🙂
Smiley Mug card:

Creamer card: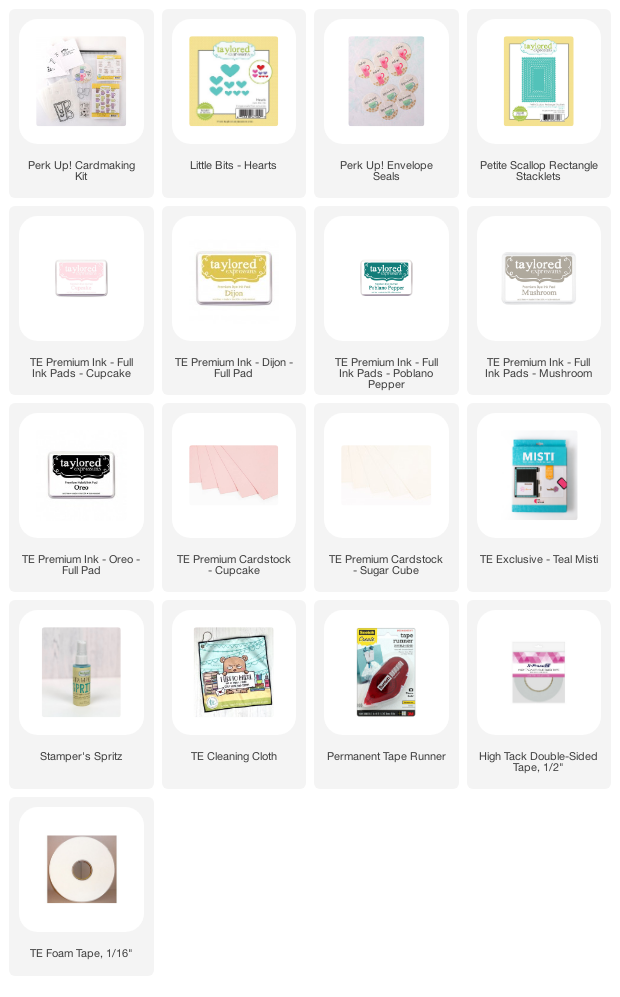 Find the TE Blog Post HERE with lots of perked up inspiration from the TE Creative Team! 😉
Thanks so much for stopping by! 🙂
Take care 🙂