Welcome back to Day Two of Taylored Expressions December Release Week! If you missed my post yesterday sharing day one, I'll link you up down below. 🙂
This first card cracks me up–because Sarcasti-Chick has a new wardrobe this winter season: Sarcasti-Chick's Winter Closet. I decided she needed the cute sweater and obviously a heart headband. Obviously. 🙂 I colored everything with Copic Markers.
I also used the forthcoming Framed Roses Cutting Plate. I thought it would look awesome embossed and it does!! ❤ how that turned out. 🙂
So fun! She's a crack up!
The next cards, might just be my favorite from this release? Maybe? Ha! 🙂 I just think these puntastic new Punny Note Valentines are adorable! They were super fun to color. I am looking forward to my son using them to make a few fun valentines too. 🙂
I stamped these with Oreo ink and colored them in with Copic Markers. The Scalloped Notecard die is about the cutest little card maker ever. So sweet!
All these cut little clouds and bits are from the Notecard Accessories die set.
These little envelopes are the 3 x 3 Envelopes. I want to make all the mini cards! 🙂
I also used the Mini Mail stamp set to create all the fun envelopes that go along with these lil' cards. I thought it would be fun to add a little color action on them. They were fun to make as well. I just had to remind myself that I could not blend Copics on them, so I had to take it easy on the blending. 🙂
You can find all my supplies and links to the Taylored Expressions Shop below.
Winter: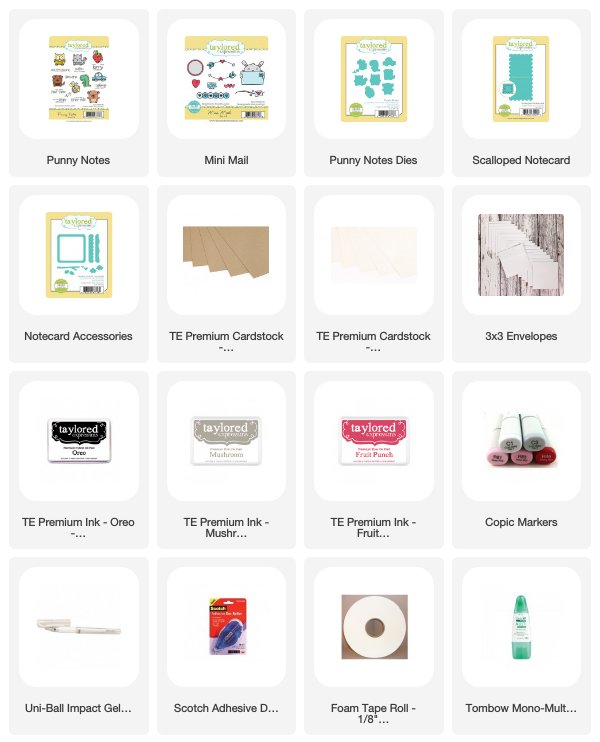 Punny Valentines: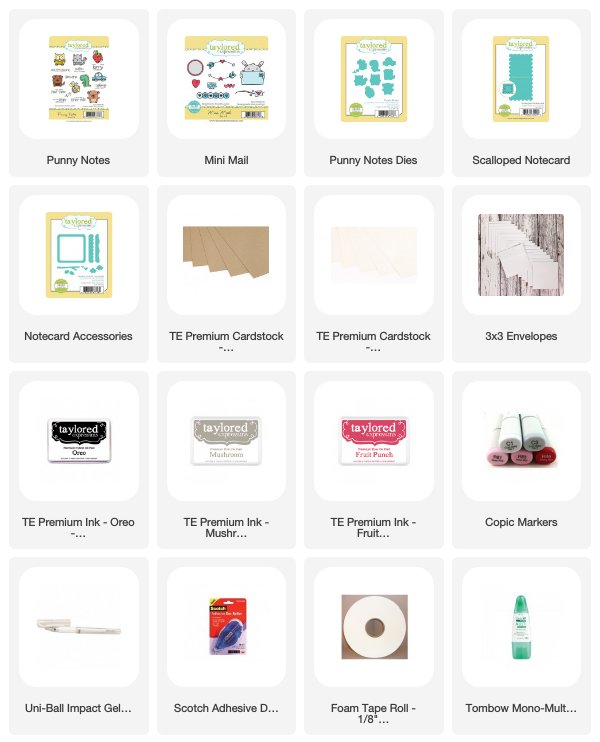 You can check out all these products, make your lists, and then purchase them Thursday morning, December 6 at 9 AM CST.
Also, be sure to check out the TE Blog! Taylored Expressions is celebrating Release Week with a giveaway during each day of sneak peeks! Visit the TE Blog to answer Taylor's Question of the Day for a chance to win one of the latest products before you can buy it!
If you missed my post yesterday for Taylored Expressions Day 1 of December Sneaks Week, check that post out HERE.
Thanks so much for stopping by again today! Hop on back tomorrow because I'll be sharing Day 3! 🙂
Have a great Tuesday!
Jill