Welcome to our last big celebration this week of  Taylored Expressions rocking 11 years! 🙂
This first card features the new Gifted Background, Gifted Background, Simple Strips – Birthday, and Gifted Cutting Plate.
This is such a celebratory card with the Backstory– Birthday Background white heat embossed to bring it all home.  🙂
I decided it would be fun to color (Copic Markers) all the gifts and then use the negative as a template to adhere all the gifts back on with foam dimension adhesive. It ended up working out and I squealed when I finished! SO fun!
The die cutting all the gifts out at once–FABULOUS! I added some stitching to polish it all off. ❤
The new stencil makes SUPER quick work of coloring this Gifted Background. I have a card on my desk I need to photograph and share….It was sooooo fast!! 
Next up, I have a sweet little birthday card using the new Birthday Basics and the previously released Star Fall Background. It's so festive!
I stamped the balloons once and then partially stamped them a little darker on one side with the next darkest ink. I love that look it gives in the end.
I don't know about you, but I never have birthday cards ready, so this release is super inspiring to get that changed STAT!
Be sure to check out all the fun the Creative Team has made to celebrate TE's 11 years!! 🙂
You can find all my supplies and links to the Taylored Expressions Shop below.
Make a Wish Card: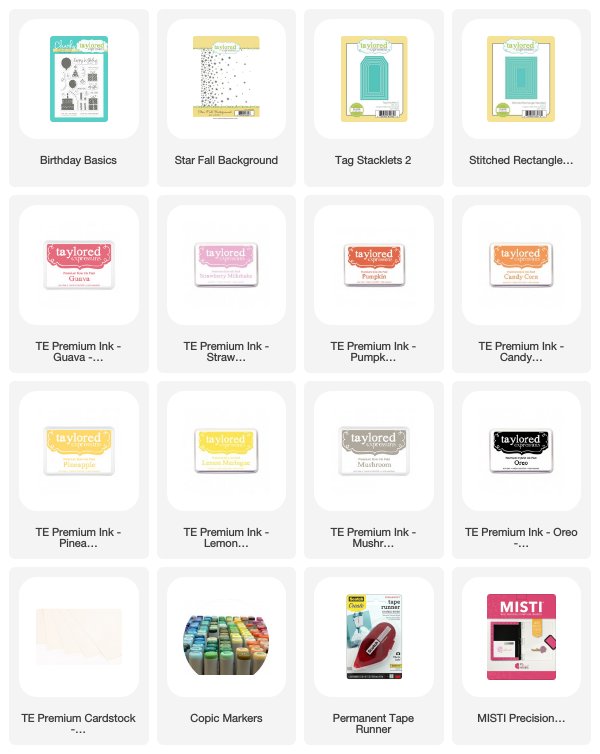 Be sure to check out the TE Blog! Here's some info direct below:
We're celebrating our 11th birthday and the gifts for you are stacking up! Here's how you can jump in on the celebration!
1. Receive a free Share Joy enamel pin with every purchase of new release products (while supplies last)
2. Free US shipping on orders of $50+
3. Orders of $75 will be entered to win 1 of 11 gift certificates to the TE store: ten $50 gift certificates, one $100 gift certificate! 
Offers valid 9/10 – 9/22 and while supplies last. Gift certificate winners will be announced on the TE blog on 9/23.

You'll also want to check out the TE Blog this week as we share the stories of TE friends and fans who are sharing joy through their handmade cards! During our birthday celebration, Taylored Expressions will donate 5% of new release product sales to support one customer's mission to provide a backpack filled with love and hope to children being placed in foster care. Read Louise's story on the TE Blog and continue to follow along as we tell Share Joy stories throughout our birthday month!
Thank you for stopping by all this week! Be sure to see what I shared Tuesday HERE and yesterday HERE!! One last Happy 11th to Taylored Expressions!! Here's to so many more! ❤
Happy Stamping!
Jill