Hello and happy day! We are sneaking a new release  today for  Taylored Expressions! All the new products will be available over at Taylored Expressions tomorrow, May 19th. This release is full of fun stamps for Dad and for your favorite little furry friends!
This first card is I used the new Gus and Gertie set. I cannot get enough of these little cuties! I stamped and colored them all–twice. 🙂
For the background I used the new Plaid Layering Stencil. I switched it up a bit and used in a different way that I thought would be a fun change. 🙂 I almost just kept it with the Blueberry stripes, because that alone was delightful! 🙂
Gah ❤ Gus and Gertie!!
Next up, I am sharing another little cutie pup card…. You're Dog-Gone Amazing! 🙂 This one uses the new Simple Strips-Woof, Paw Prints and the cute pup from Swinging By!
Isn't this new puppy cute too? He's from the new set Swinging By. I colored him with Copic Markers. I went with Cool Greys for him, but I normally uses the Neutral Grays. I used the Heart Stacklets to cut out the heart after stamping it. It works swimmingly.
Next up, I used the new Brushstroke Basics, Building Blocks-Him and Inside Scoop-Him. I stamped the first sentiment on the tag and heat embossed it. Then I decided where I wanted the tag trimmed down to and ran it through the die cut machine again, cutting the tag a big shorter. It's a quick trick to customize your tag sizes.
I thought these cute little hearts (Bit and Pieces: Have a Heart) were the perfect finishing touch before adding everything down with foam adhesive. For the background on this card, I used the new Plaid Layering Stencil and just sort of mixed it up to create a plaid background. I love this new stencil set! So may possibilities and super easy to use.
Also, apparently I really like using Blueberry ink for this stencil because I did it twice this month! ha! 🙂
Here's the sweet staying on the inside of this card–the Inside Scoop-Him set. 🙂
You can find all my supplies and links to the Taylored Expressions Shop below.
Husband card: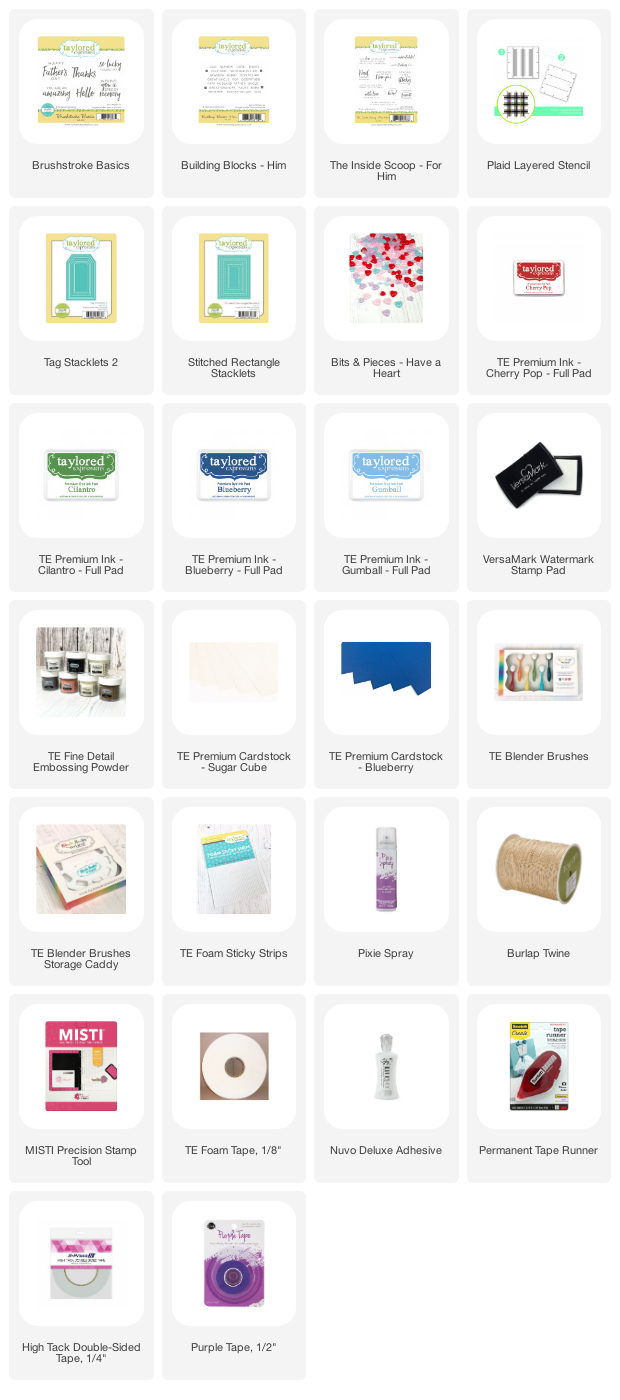 All these products are available tomorrow, Tuesday, May 19th at 9am central over at Taylored Expressions! 
Find the TE Blog Post HERE for today with more inspiration! ❤
Thanks so much for stopping by!
Take care 🙂