Welcome back! Today we are having fun celebrating the Frosty Kit Release from Taylored Expressions! This set is available over at Taylored Expressions TODAY, July 21st.
Talk about super cute cards created in a jiffy! THIS KIT!! Throw in a few inks and take the pouch on the go! While you can color the snowman, they are snowmen, so really, you don't have to! Boom! Lots of cuties stamped and ready just like that. 🙂
With one swoop you stamp all the cute snowman heads. Then you can just use that panel as a background OR you can die cut out all the little Frosty heads, add a body and voila! (Pssssst–You may consider grabbing an extra (or two or three–ha!) Frosty Head die. It'll make it all go that much faster!
One of the most brilliant things, (well, it's all pretty brilliant if you ask me) is that there is this stencil in the kit that you overlay and it fits perfectly in the space between all the Frosty heads! 🙂 OR you can just use it independently, like I did on this card below:
For this card, I did add little bodies to all the cute heads–I love that they have different expressions. 🙂 This card is my family so I typed out our name and printed it off my computer. Then I die cut it with the Sentiment Strip Duo die in the kit.
This went pretty fast once I had it designed, so I could see making a stack of these and sending them out at the holidays. 🙂 I also used the TE Masking Stencil Circles on this one. 🙂 Perfect backdrop!
Next up, I have this fun shaker card! I used the Heart Stacklets dies to create a window that I added the TE acetate to, along with the Distress Glitter and Vanilla Creme mix.
The two little hearts are from the Little Bits Hearts die, and if you don't have this die, I highly recommend tacking it into your next order. I have no idea how I did not have this die until recently. All those hearts in one shot! ❤ These Bits & Pieces – Snowflakes inside my card are slightly different than the ones that come in the kit. You will not be disappointed with the cute ones in the kit!! I need MORE! 🙂
I also used some Nuvo sparkle with the stencil on this one. The Nuvo spatulas are clutch when using this goodness… along with washing or at least soaking your stencil ASAP after applying. 🙂
There is also a handful of envelopes included in the kit, so you add your cute stickers (also in the kit and mail away!).
For this card, I played it pretty straight forward, but I so love that you can change the hat band colors on all your cards however you see fit! I think it would be fun to do some warm beachy colors if you live a warm climate. The possibilities! ❤
I stamped out the Let it Snow and then I scored and folded the strips to pop them up a bit. Or you can just leave them straight, especially for the longer sentiments. 🙂
I hope to find some time soon to create some holiday tags with this cute too! 1-2-3 done! 🙂
The new Taylored Expressions Frosty Kit is so fun!  And perfect for these HOT days! 🙂
The details: Here is everything included in the Frosty Kit – which retails for $65:
Frosty Background Cling & Clear Combo stamp set
Frosty's Head die
Frosty's Body die
Frosty stencil
Winter Wishes Clearly Crafty stamp set
Sentiment Strip Duo die collection
Bits & Pieces – Snowflakes
6 Custom Envelope Seals
6 Colored Envelopes
Packaged in a zippered pouch with a custom kit label
A  few items will be available to purchase separately from the kit: Frosty's Head die, Bits & Pieces – Snowflakes, and extra envelope seals.
You can find all my supplies and links to the Taylored Expressions Shop below.
Frosty Shaker card: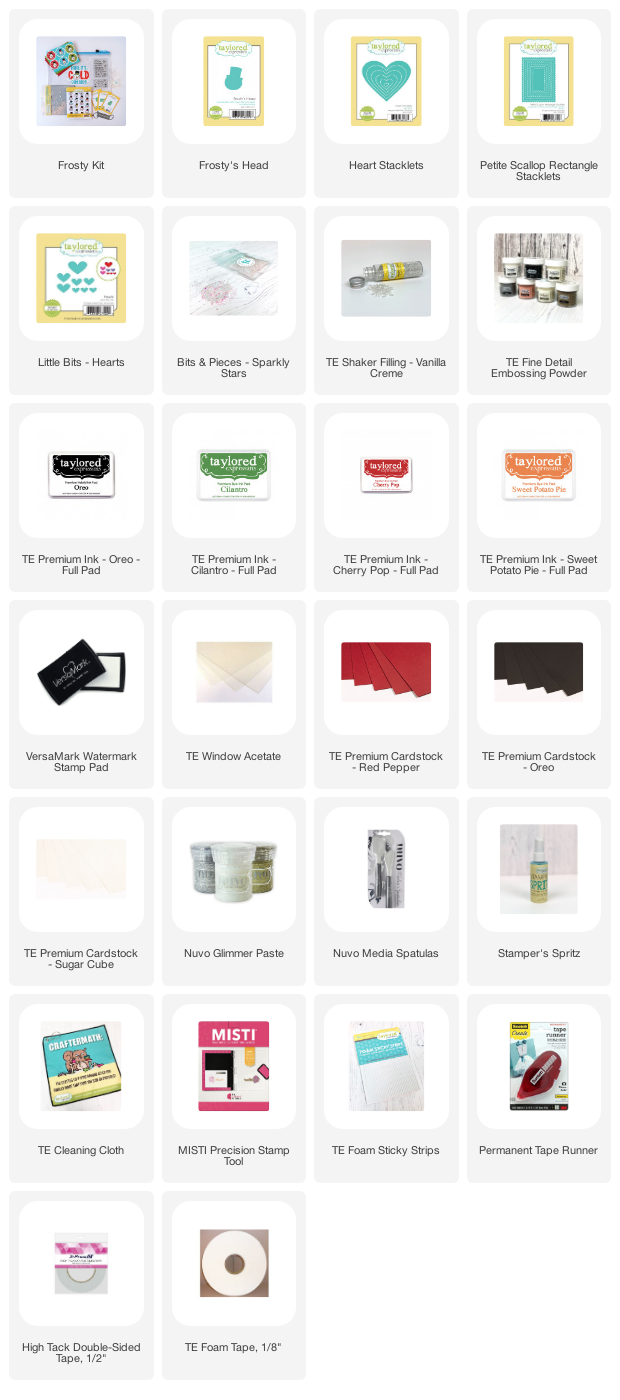 Let it Snow Card: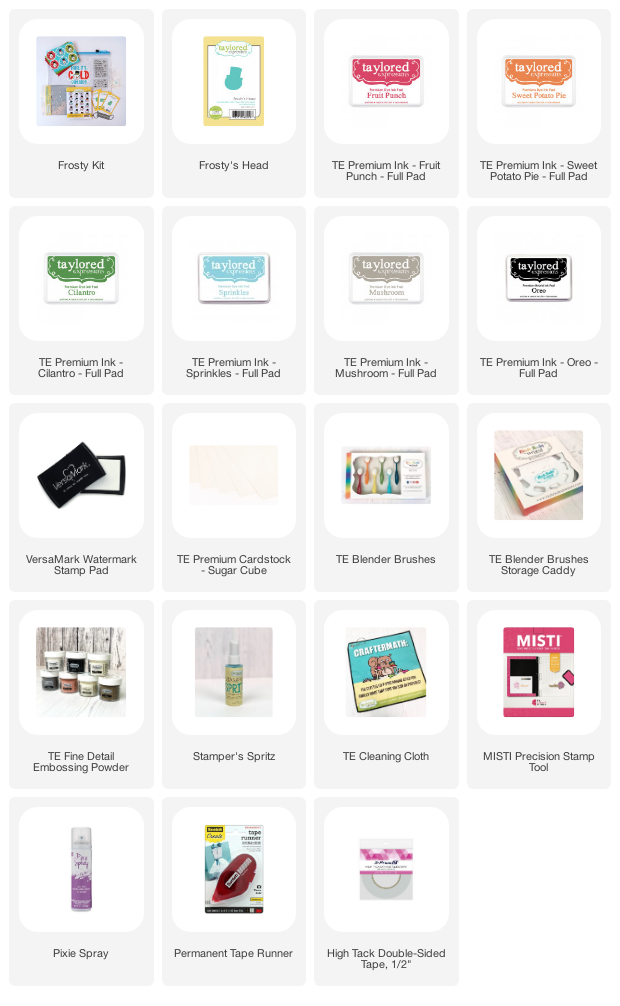 Hawkins Family Card: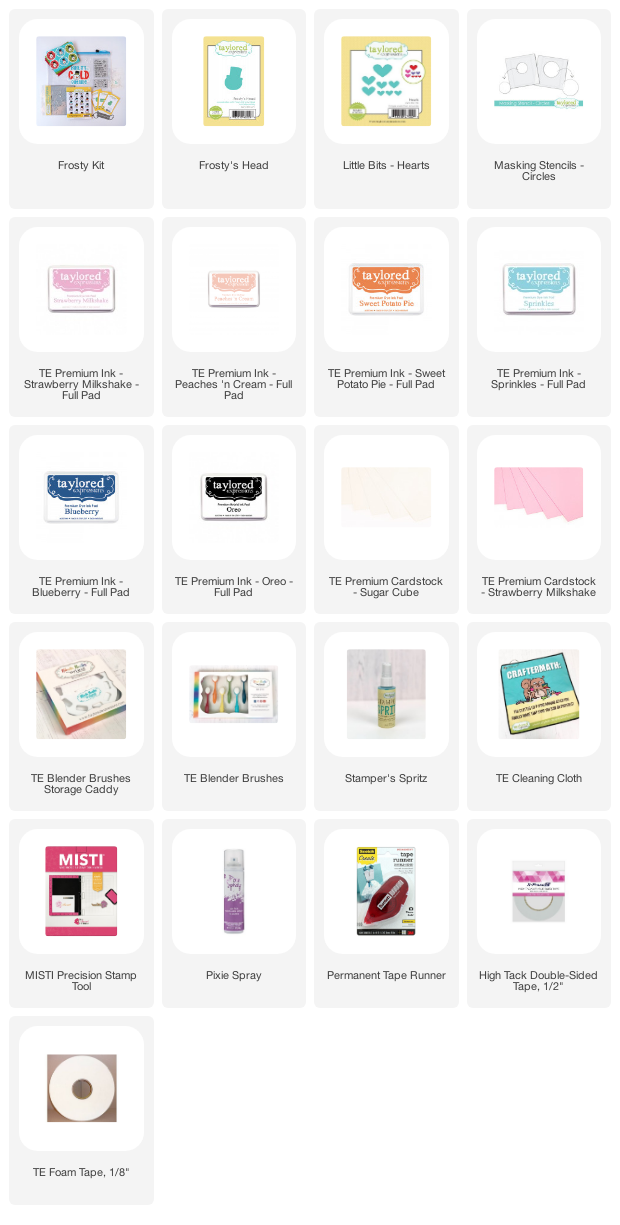 All these products are available over at Taylored Expressions!
Find the TE Blog Post HERE with more inspiration from the TE Creative Team! ❤
Thanks so much for stopping by! I hope you have a frosty week! 🙂
Take care 🙂