Happy Tuesday! Today, we are having some nature fun celebrating the Field Notes Kit Release from Taylored Expressions! This kit is available over at Taylored Expressions NOW, August 11th!
The Floral set, Sketchbook Florals, is designed by the super talented Lori Craig and I am so excited for her!! These stamps are lovely Sketchbook Florals and the size of each is very manageable to create sweet cards or projects with. The sketchbook theme is evident in the design of these stamps and they evoke nothing by lovely, calming thoughts in my mind. 🙂
Let's hop right into a card, shall we? This first one is one of my favorites. I can't decide why, but I think it has a very soothing affect.
I used the Square Masking stencils and more masking to create this one. I stamped the flowers on the card, as well as on some masking papers to use. This card is  created in a simple layering system and it goes very smoothly. 🙂

With detailed floral images, I find it is often easy and welcoming to leave the rest of the card simple. I think I may need to go back and make a few more of this one. 🙂
Next up, I spent a good deal of time using  some TE Watercolors. Pretty sure I still have quite a stash of flowers on hand. ❤
The background stamp in this kit is called Rough Draft Background and its truly an instant fave for me! I'm probably going to have to hide it from myself so I don't use it on all my cards. 🙂
I used the TE Masking stencils-Rectangles and did some blending and stamping inside that  space with Granny Smith and Sweet Basil before removing it. It creates a crisp mask EVERY time! ❤
I watercolored this flower with the TE Watercolors and added some TE Shimmer to the mix to create a little sparkle. Of course, you have to take my word for it, because this photo will not capture that. 🙂
The little tag in the kit is perfection to tie on with a little twine. 🙂 Paired up with the envelopes in the kit and stickers, and boom, mail a card to someone you love.
Next up, I have another one I watercolored simply with the TE watercolors. This might be my fave from the dozen or so I watercolored. 🙂

I created a simple background using the TE Blender Blushes and the Frayed Edge Stencil on a wonk. This is another fave card from this release. I am laughing because it is mostly Lavender Glaze, and generally speaking, lavender is not a fave of mine. But I do quite enjoy this lovely shade TE  shade and is so fitting for this series of cards: Perfection!

What a lovely sentiment, and I paired it with this sweet little date stamp also in the kit. I can't wait to send this and commemorate August 2020 for a friend! ❤
Next up, I wanted to try and use a flower with just a little tad of Copic color to add just a hint of yellow. Paired once again with the Rough Draft Background in B&W, I enjoy this fun and different look.
I die cut the circle background with the Stitched Circles before finishing it all off with some stitching and the Clear TE Bits–which I cannot get enough of!

Here is another card using a TE Masking Square Window Stencil. A little ink blending with the TE Blender Brushes and then the stamping of this lovely detailed Floral from the kit: Voila! I just love a clean and simple card. ❤
I cut out the panel with the Stitched Rectangle Stacklets and add a little stitching to finish it all off.

Next up, I like to call this one my dried very special flower. 😉 ! I am not entirely sure how I feel about this flower being Toffee, but I must tell you, it does look better in person. I added a lot of TE Shimmer to this flower and it has that soft sparkle in person that sort of makes this card, if you will. 🙂
Either way, like or dislike, I am sharing because I do enjoy this background created with the TE Hexagon Masking Stencil and the the little dot stamp in the kit. This little dot stamp is the bees knees and it is one of those stamps you find yourself using often to just add a little something to a background so simply. It creates a lovely backdrop for these floral images!

The panel is created with the Petite Scallop Rectangle Stacklets….ALWAYS a go to! 🙂
Are you tired of cards yet? Can we ever be? 🙂
Lastly, I thought it would fun to try and layer this Frayed Edge Masking stencil in different colors to create a background. In doing that, I wanted to be sure the flower still stood out on its own. Once again, I went with keeping the flower B&W, with the goal for it to stand out. It's sort of counter intuitive, if you ask me, but I think it works. 🙂
If there was ever a set this B&W technique works, it is this detailed Sketchbook Florals set by Lori.
I created a little different composition with this layout and then added a few TE Drip Drops to this one with some stitching to finish it all off.
You can find all my supplies and links to the Taylored Expressions Shop below.
With Sympathy card: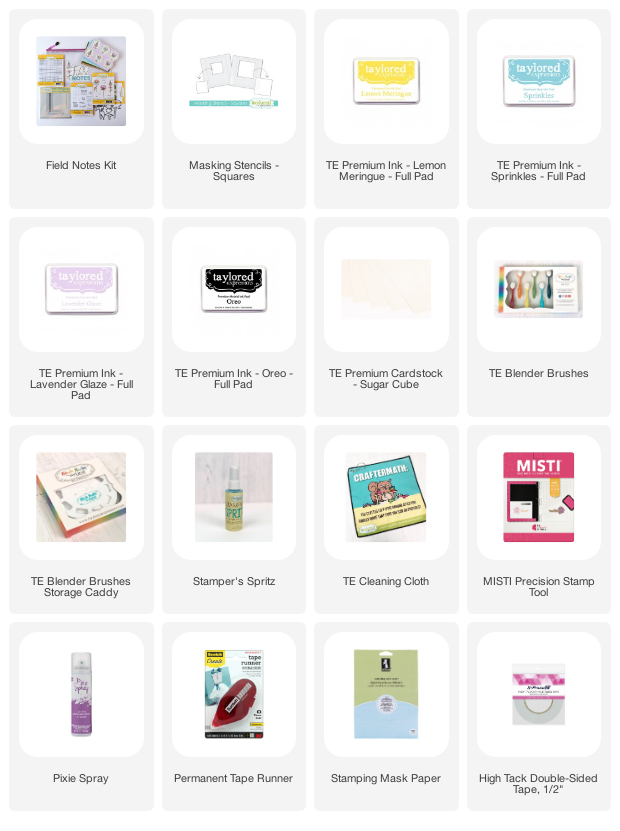 Hello (Pink) Card: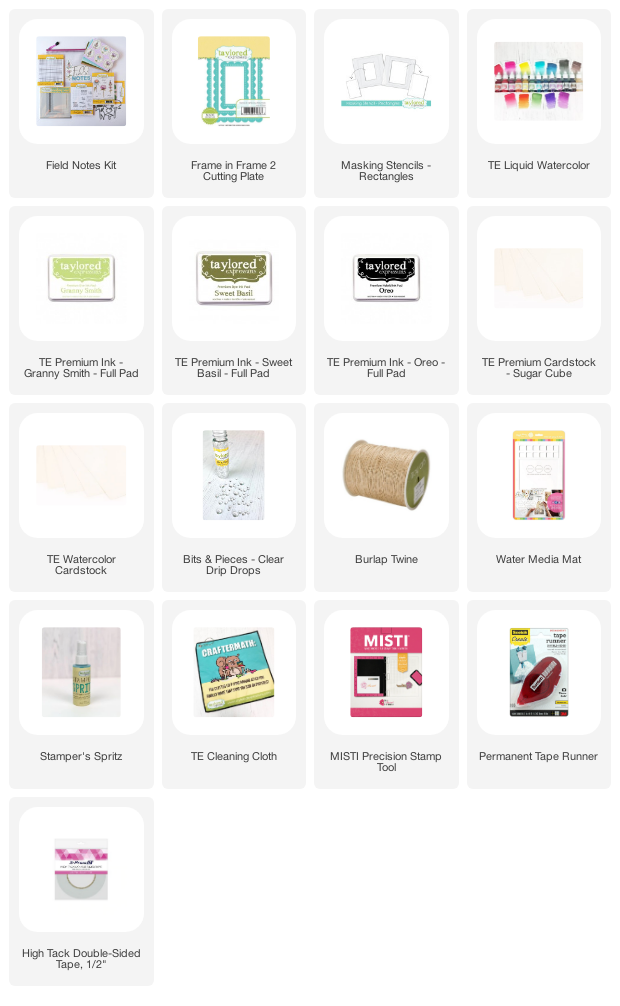 Thinking of You Card: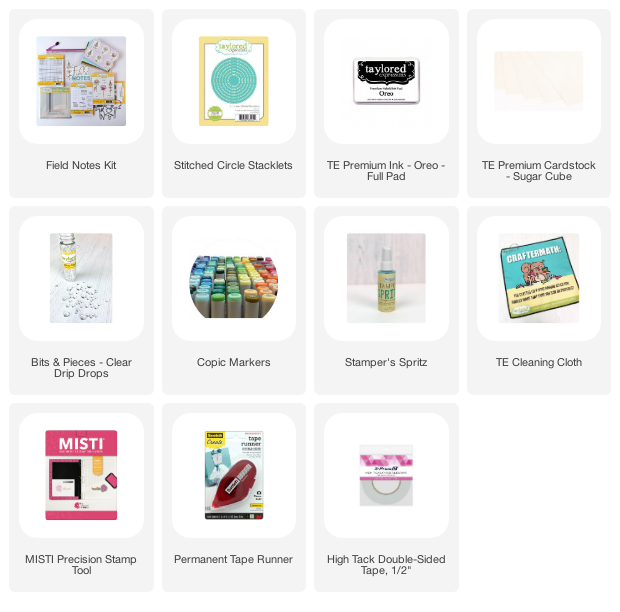 All these products are available now over at Taylored Expressions!
Find the TE Blog Post HERE with more inspiration from the TE Creative Team and Guests! ❤
Thanks so much for stopping by! Big props and Congrats to my friend Lori Craig for illustrating this amazing Floral set and helping to cultivate this lovely TE Field Notes Kit. I hope I have shared a few ideas to use it different ways and that you all enjoy it as much as I do! Beautiful ❤ !
Have a lovely week! 🙂
Take care 🙂