Are you in the mood to get the Autumn things out? While I am holding on to Summer this year more than ever, but I am ALWAYS ready for Fall. It's my favorite! On that note, today I'm here with fun Halloween goodness from Taylored Expressions! I love seeing all the Halloween cards the TE Creative Team made, so be sure to check them out over on the TE Blog with links to their blogs too!
These are all available from Taylored Expressions today, August 25th! Yay!
First up, of course, always a fave, Big Grumpy…and he's all dressed up for Halloween with Big Grumpy Halloween!! 🙂
This sentiment though! haaaaaaa!!!! Did you see the little graphic up there at the top of this post? That's Melody's super cute card. Another funny sentiment. 🙂
I colored everything with Copic Markers and die cut them out before. I blended a mix of violets and purples (gasp) over a panel using the TE Rectangle Masking Stencil. Keeping the stencil on, I stamped adding to the previously released background Bare Trees Background. It turned out pretty spooky if I do say! 🙂
Next up, I have this fun little pumpkin banner card made with the new Pumpkin Patch stamp + die set. This is a full background stamp you can stamp and then add all the stems and cute faces to. You can also die cut out the individual pumpkins, which I love!
I added them each to the Pennant Stacklets die cuts that I stamped with Sugar Cube on the new Linen Background stamp ( ❤ ). I created the background for this panel with the new Mini Slim Spider Web stencil in Toffee and of course, the TE Rectangle Masking Stencil.
The sentiment on this card is the Mini Strips-Halloween cut out with the Mini Strips Die. These little pumpkins come about 1-2-3 with this quick stamping system! For more fall related projects, you don't need to stamp the faces if you choose not to. Love these each time! 🙂
Next, I have this sweet little Mini Slim card featuring the new uber cute set Spooktacular and Spooktacular Dies. I love the little stamp sets from Much Sketch every time–adorable!
I couldn't decide which image to use first and then I ended up using two of the adorable ghosts that I colored with Copic Markers. Again, I used the Mini Slim Spiderweb Stencil to create this background with Lavender Glaze ink and the TE Blending Brushes. I also used the previously released Mini Slim Trifold Template + Dies – Square and the Petite Scallop Mini Slim Stacklets.
This is the inside. I just had to be sure I oriented the spider webs correctly. 🙂  It's a little party on the inside of the card too then! 🙂
The sentiments are from the Pennant Parade – Halloween. I so love those fonts! 🙂
Lastly, I thought I'd share these sweet little pumpkin treat holders using the new TE Project Kit – Pumpkin Candy Capsule! I am so excited about using these for Halloween. Treat containers are always super fun and these are SO quick, easy and super fun to make. I want to make more! 🙂
You just stick on the little faces and rub them on. They rub on and adhere beautifully! I highly recommend. 🙂 The you add the cute cork topper stems with the sweet felt leaves… a wee bit of twine if you'd like and voila! Adorable!
Don't forget the candy! 🙂 I also decided I needed an acorn, so I covered one of the container toppers with brown microbeads using decoupage glue. I might find microbeads all over for a little while….shhhhh! 🙂
Gah–I do love Halloween treats! 🙂
You can find all my supplies and links to the Taylored Expressions Shop below.
Oh and also, there's this fun little package deal:
Boo Mini Slim Card: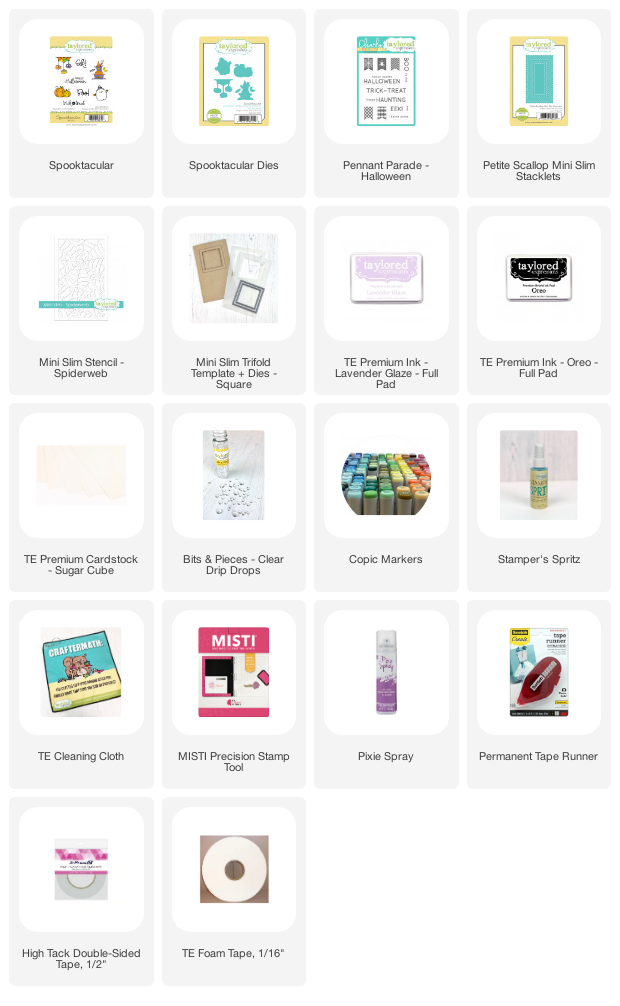 Pumpkin Treats:

All these products are available today, August 25th over at Taylored Expressions!
Find the TE Blog Post HERE with more inspiration from the TE Creative Team! ❤
Trick or treat! In August! Have fun making sweet or spooky Halloween cards! I say the more cards we can make and send this year, the better! 🙂
Have a great week! 🙂
Take care 🙂