Today is a lovely new release. This one follows on the heals of the previously release kits Field Notes. This is a smaller set, but just as delightful. It's the Field Notes 2 Kit release today at Taylored Expressions! 🙂 Lori Craig has quite the knack for drawing up these lovely florals, a skill I don't even remotely possess, even one iota! 🙂
This new release is available at Taylored Expressions today! 🙂
First up, I really wanted to make a full bundle of flowers and tie it up with twine. The die that is included in the kit makes this so easily achievable and I just love that look. 🙂 I used Karin Watercolor Markers to watercolor this in.
I used the Frame in Frame 2 to create a frame and then used the line stamps in this set to create a border. I love those sketched lines (I stamped in Mushroom) and I think I could those often for other cards o' plenty too! 🙂 These flowers are just so lovely! ❤

I also used the little splatter stamp included on this set to fill in a little white space on this card. Love that little stamp and I am going to be using that A LOT! It's a controlled splatter for when you need a little something.
Next up, I created a more "one layer" card with just two layers–wink wink. I stamped the lovely bundle off the corner of the card on both ends and then stamped this beautiful sentiment in the middle. I filled in a little blue watercolor with the Karin Markers again to create a wash.

After it was all set, I die cut the whole panel with the Petite Scallop Rectangle Stacklets and stamped it with the Splatter Background stamp in Mushroom. Another stamp that will be used pretty much all the time! 🙂

Lastly, I wanted to use the mask that is included in the kit as well. I wanted to use it very simply and it worked out wonderfully. I highly recommend going this route if you are a little pinched for time. I enjoy the lovely look it creates very easily.
First I stamped the flower bundle, again off the corners of the cards. Then I sprayed the back of the mask with some Pixie Spray to hold it in place. After all that was set, I laid the patterned stencil over top (again pre sprayed with Pixie Spray) and blended on a few colors of ink over top.

Oddly, I used the same two sentiments again, but there are I believe four sentiments to choose from in the set. I do that a lot! ha! 🙂

I love the fonts on these sentiments. This card, I am not as super fond of, but I do think that it still turned out and I will be sending this–hopefully I need it no time soon though. ❤

So many things you can do with this lovely Field Notes 2 Kit. Another big shout out to my friend Lori would created these flowers! So much talent! ❤
The TE scoop on Field Notes 2:
Here's everything included the Field Notes 2 Kit – which retails for $55:
Sketchbook Bouquet stamp set
Sketchbook Bouquet Die
Sketchbook Bouquet Stencil
Splatter Background stamp
6 Watercolor 111 lb. A2 Cardstock Panels
6 Textured Watercolor A2 Envelopes
6 Custom Envelope Seals
Packaged in a zippered pouch with a custom kit label
Limited quantity available. Most items not available to purchase individually.
All these products are available now over at Taylored Expressions.
Bunch of Flowers card: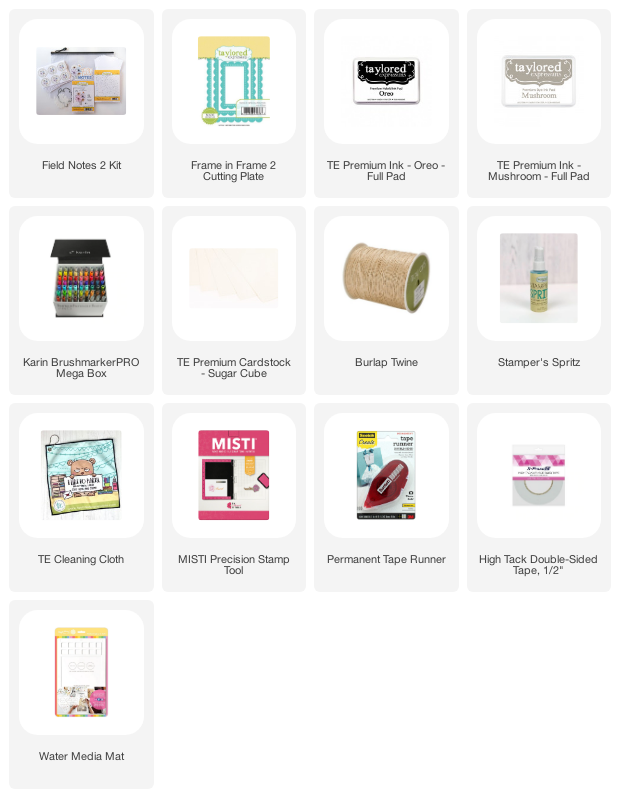 Find the TE Blog Post HERE with more crafty inspiration from the TE Creative Team! Sure to be a plethora of lovely cards! ❤
Thanks so much for stopping by!  Have a fabulous week! 🙂
Take care 🙂