Today, there are two fun new Kits available over at  Taylored Expressions. There is the new Butterfly Wishes (which I LOVE) and the new Buttoned Up Kids Kit, which my son LOVED! We were both loving life here with these kits.
First up, there is the Butterfly Wishes kit which I cannot say how fun it is to use the stencils alone in the kits! 🙂
And don't even get me started on the stickers/seals!! But I digress…
Anywho–so as long as I was stenciling away, I thought it would be smart to make a few panels. Which turned into about six total, but I only finished four here. So first, you stamp the little butterfly bodies and antennae on your panel. This part of the kit is called: Butterflies Stamp & Stencil Combo.
On the white panels, I used Mushroom ink and on the Toffee panels I used Sugar Cube ink for their bodies and antennae. Then it is very easy to line up the butterfly wings to the bodies because the stencils are etched, creating an extra visual. The first layering stencil has either the top or bottom of the butterflies wings and then the second has the other half. So you can create different gradients or use different colors entirely on the different parts of the butterflies! This is quite fun because the endless possibilities and combos! Gah! ❤
On the Toffee panels, I first laid down a layer of Sugar Cube before applying the color inks. This allows the color inks to sit atop the Sugar Cube and I think creates a more vibrant color ending.
I wasn't super careful to line up my stencils overtop of it either, so you can see the Sugar Cube poking out there underneath, which I actually wanted. I might even offset it more next time! 🙂
I love using a rainbow of colors to create these blends too! I used the Frame in Frame 2 dies to cut them all out.
AND there is a whole other stamp set, Clearly Crafty Butterfly Wishes stamp set, is meant to add even more detail to these cutie little butterflies. AND dies for the Butterflies: Butterflies die collection. I however, didn't even use them on these cards and they are still delightful. Be sure to check out the rest of the Creative Team's projects to see how lovely projects are adding those detailed stamps.
The sentiments in the Clearly Crafty Sweet Sentiments set are all included in the kit as well. Perfect array for making card sets! I just heat embossed mine on vellum before stitching them on.
Next up, I have a fun little kit designed with kids in mind: Buttoned Up Kid's Kit. My son, who is ten years old now (correction: ten and a HALF), doesn't have the threshold that he used to with cardmaking. We'd spend several hours making things. Now, his attention span isn't as long to hang with Mom. Ha! So this card kit is PERFECT for him!
He made these four cards quite quickly. If you have kiddos that have longevity, think of all the fun little details you can add to these as well! ❤
His favorite part was putting the buttons on. The kit includes Glue Dots and that makes it super easy to adhere the buttons so they don't go anywhere.  You just give the Glue Dots a good rub over and the friction/heat from your finger adheres the dot to the button's surface well.
One can even put the buttons as the centers in the flowers, but my son decided that flowers don't get buttons. haaaaa! 🙂
This one above was his favorite and he brought it to his teacher the very next day! These are perfect for anyone, anytime. Teacher Appreciation, a Coach, a friend, a caregiver, Grandparents, etc. etc.! And there are plenty in the kit to make several cards!
He loves to use Mom's Copic Markers! 🙂
I think we both loved this kit because it makes it so easy to create these cards. We didn't even need to be in my craft area to access a bunch of supplies, because everything we used was in the kit already (except the MISTI and the handful of markers he chose, of course.) I'm keeping the kit all together so we can just pull the whole thing out to create more when we need them.
Apparently, the more is more with regards to adding buttons…. add ALLLLLL the buttons! haaa! 🙂
We might need to get some more cards to make! 🙂 I'm thinking this would make a sweet birthday gift for a little creative friend too. ❤
Goodness, I adore this kit. Streamlines cardmaking for kids and encourages giving! And THESE STICKERS? YES, please! 🙂
Such fun we had! The Kid's Kit is so reasonably priced and all set to grab-n-go for kids to take with them! Be sure to grab the Hip Hip Hooray stamp set if you need that too–sold separately.
Here are all the details with my supplies below:
Here's everything included the Butterfly Wishes Kit– which retails for $55:
Butterflies Stamp & Stencil Combo set
Butterflies die collection
Clearly Crafty Butterfly Wishes stamp set
Clearly Crafty Sweet Sentiments stamp set
Diamond Jewels
6 Custom Envelope Seals
6 Toffee A2 Envelopes
Packaged in a zippered pouch with a custom kit label
**Limited quantity available. Most items not available to purchase individually.
Kid's Buttoned Up Kit:
Here's everything in the Buttoned Up Kids Kit that retails for $25:
12 A2 sized card bases (2 each of: Cherry Pop, Lollipop, Candy Corn, Lemon Meringue, Blueberry, Cookie Monster)
12 custom envelope seals
12 pre-printed A2 card layers (3 each of 4 designs)
12 Sugar Cube A2 envelopes
Approximately 2 oz of buttons
1 glue stick
175 glue dots
1 plastic storage case with a sticker
**The Hip Hip Hooray stamp set that is designed to coordinate with the Buttoned Up Kids Kit is available to purchase separately.
All these products are available now over at Taylored Expressions.
Buttoned Up Kid's Card Kit: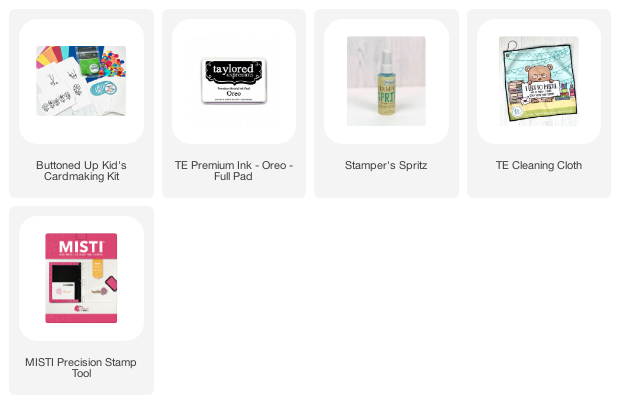 Find the TE Blog Post HERE with more crafty inspiration from the TE Creative Team!
Thanks so much for stopping by!  These butterflies are just too fun!
Take care 🙂