There is a new release over at  Taylored Expressions today and it is an exciting one–Theater Fold Cards! AND lots of new goodies that work well with this concept or for any card, as you'll hopefully see below too! 🙂
This fantastic Hello is from the Oh My Word-Hello set and it has quickly and efficiently worked it's way into my most used pile. LOVE. IT. I stamped Hello with a few different color ink pads to achieve that ombre look.
TE is creating and packaging the little side Theater Fold panels for you to purchase. Yes, you can absolutely cut, trim and score these on your own, no problem. But I'm telling you, order them. 😂! You will be glad you did. They are making them in Sugar Cube and Toffee and they will save you time because the accuracy is already done for you–sold! And I don't know about you, but if I can just grab and create, I will make more of these vs. having to cut and score and measure. It's by no means hard, at all, I'm just keeping it real. 🙂
You then use the Theater Fold Die to create both the frame and the two little strips that the panels slide through to open up (They are on the underside, so you cannot see them in the photos). The strips have the score lines impressed so there is no guess work there. Easy peasy! Simple adhere those two strips and slide these pre-cut, pre-scored Theater Fold panels through and voila!
I created this lovely floral frame with the Best Buds Stamp and Stencil set, which I have also been using a lot lately (see my Mother's Day cards in my feed HERE). It's so quick and easy to get a background. I colored in the leaves with different green Copic Markers on this card. 🙂
This sweet little image inside is from the new Bitty Borders stamp set and I also used the new coordinating Bitty Borders die. This new Bitty Borders set is chock full of cuteness–you've been warned! 🙂
I am digging this Peaches n Cream and Sprinkles combo a lot lately. 🙂

For the inside, I used the Here Comes the Sun stencil with both Lemon Meringue and Pineapple inks blended in. At first I only had the back panel and and then once I assembled it, I thought hmmmm that needs to go up the sides. So I sprayed my stencil with Pixie Spray and laid it right over I stenciled before and added the rays on the side. When I was finished, I was so glad I did! What a fun effect that makes inside with this cool Theater Fold.
I added a Lavender Glaze little heart from the Hearts die and done. When interactive cards take too many steps or layers or time, I lose interest pretty fast. I love to make them, but rarely go back to make another. THIS ONE, however, is 1-2-3 easy, especially if you have the Theater Panels already cut and scored from TE. Bing Bang Pow done! LOVED that. 🙂
Next up, I used the Oh My Word-Birthday stamp and the sweet candles from the Bitty Borders set to create this Birthday card. I am wishing I had made a stack of these so I could actually get my birthday cards out on time! 🙂
Again, I hopped on the Peaches n Cream & Sprinkles bandwagon I seem to be aboard and colored the candles with Copic Markers. I used the Mini Slim- On the Dot stencil to create a little background interest.  Again, I used Sprinkles at the bottom of the panel and faded up to Confetti Cake…then Salt Water Taffy, for the topmost color.

I made the panel using the Petite Scallop Square Stacklets and the more recently released,  Diagonal Stitched Squares. These two sets of stacklets, along with the Rectangle versions of each are used often in my cardmaking, in case you haven't noticed. 🙂 They are always a good addition. I stamped the Happy Birthday twice. I stamped it once directly on the panel for the Happy and then again with a dark to light ombre on some Sugar Cube before die cutting it out. I love the idea of making these and mailing Birthday cards on time– ha! 🙂
Next up, I HAD TO use this cutie little rainbow stamp from the Bitty Borders set. I kept things pretty simple. In doing that, I know I can go back and make more without feeling overwhelmed with a  lot of work or steps. Always a win in my book.
For the background, I die cut the second size of the Frame in Frame 2 die. Then, I used the Set the Scene- Clouds with Sprinkles ink gently. Once I finished that, I added a few ink splatters. I colored the cutie rainbows with Copic Markers and used foam tape to adhere them, after stamping this sweet sentiment from the Oh My Word- Thank You set. I will use that one often! 🙂
I added some stitched and adhered both the little rainbows and the whole panel with foam adhesive. Done! These new Bitty Borders would make quick work of making a card set for gifting. 🙂
All these products are available now over at Taylored Expressions. See my links below to make things easier. 🙂
And here's the scoop from TE:
You'll be ready to start making interactive Theater Fold Cards when you purchase our Theater Fold Starter Bundle, available for a limited time only! The bundle includes one Theater Fold Frame Die and two sets of our Theater Fold Flaps (one each in Sugar Cube and Toffee), as well as a 6×6 Paper Pack in Playful Patterns – Bold! The Theater Fold Starter Bundle is available through Sunday, April 23, or while supplies last.
Theater Fold Card:

Happy Birthday Card: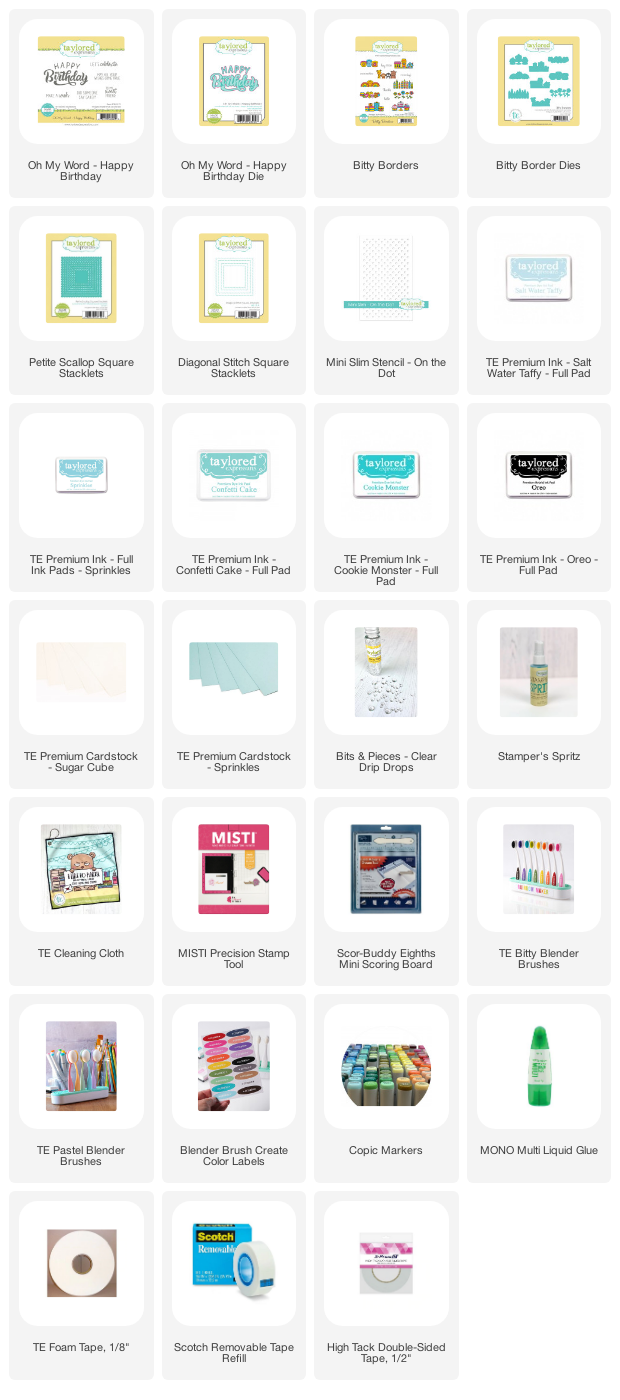 Rainbow Card: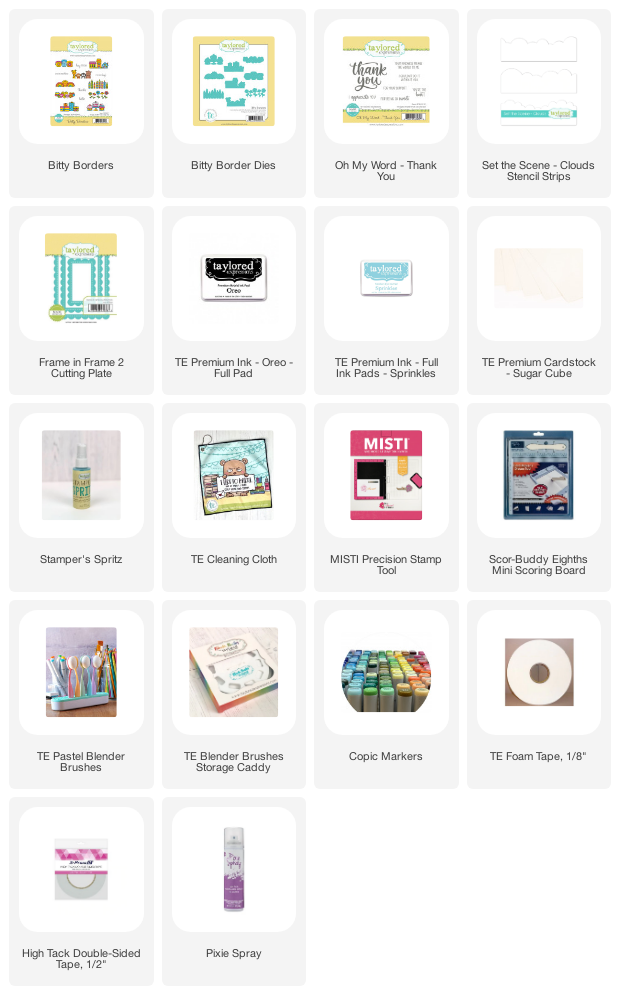 Find the TE Blog Post HERE with a bunch of inspiration from the TE Creative Team!
Thanks so much for stopping by! Have a great week ahead!
Take care 🙂