Taylored Expressions has a New Release today for FALL!! 🍂 This is not to be confused with the Halloween release because this one is all things Autumn! Well, besides Halloween! 😆 too funny
Autumn is my favorite season so making these cards, I was getting all antsy for my sweatshirts and cozy blankets on the couch. And of course, I always love the warm colors of Fall too.
First up though, I decided to do a little fall and a little Guava. 🙂 This is the new Signature Thanks die and backer die. The backer die is always the clincher isn't it? Makes everything so easy to put together.
I also used the new Swirls Pierce Cutting Plate to create these backgrounds. Nothing is better than a simply made background to give everything so much detail and pop!
I feel like I should have made more of these at the time because I can use these for use for just about any occasion throughout the year.
I used Sweet Basil for the green on a continued journey of me branching out in my color ways. 🙂
And then on the inside, (I actually remembered to stamp the inside!), I used the new Inside Scoop-Thanks. I'd definitely recommend using these sentiment stamps on the front of your cards too!
Next up, I have a fun one! This one uses the new What a Hoot Cling and Clear combo (and die!).
I REALLY branched out with all these colors I used and at first I wasn't too sure about them, but now they are definitely growing on me. 🙂 I
I also used the previously released Modern Tree Background and Stencil combo. That one is always a fun one to use in my book.
Naturally,  I had to add some googley eyes to the hooty owl. 🙂 And of course, the fact I used purple anything still has me not knowing who actually made this card. Ha! We'll see how much longer I continue on my branching on on color ways. 🙂
This little What a Hoot set is too cute! 🙂
Here's the scoop from TE:
Free envelopes & seals:
With any purchase of Fall products (old and new!) of $75 or more, you will receive a FREE pack of envelopes and custom Autumn Blessings envelope seals. The pack includes 10 envelopes (2 each of Mulled Wine, Pumpkin, Dijon, Sweet Basil and Toffee) and 10 exclusive envelope seals (these seals are not available to purchase). This offer is valid now through 11:59PM Central Time Sunday, September 5th, or while supplies last.

Free class:
When you purchase the Autumn Blessings Collection (Autumn Blessings stamp set, Autumn Blessings die collection, and Swirls Pierce & Cut Plate die) through Sunday, September 5th, you will get a free exclusive 2-card video craft along class with Taylor!
This mini version of our Online Crafty Classes is a great way for you to put your new Fall goodies to use right away making two different cards at your own pace! Watch the videos as often as you like and learn some new cardmaking tips and tricks while discovering inspiration for more designs!
Once you complete your purchase, you will receive an email (separate from your order confirmation email) with links to the class videos on YouTube.
Although Taylor will recommend colors for ink and cardstock, you can use anything you have to make these projects uniquely yours!
Hurry! This offer is only valid through 11:59 pm (CT) on Sunday, September 5th, or while supplies last.
All these products are available now over at Taylored Expressions. See my links below to make things easier. 🙂
Signature Thanks cards: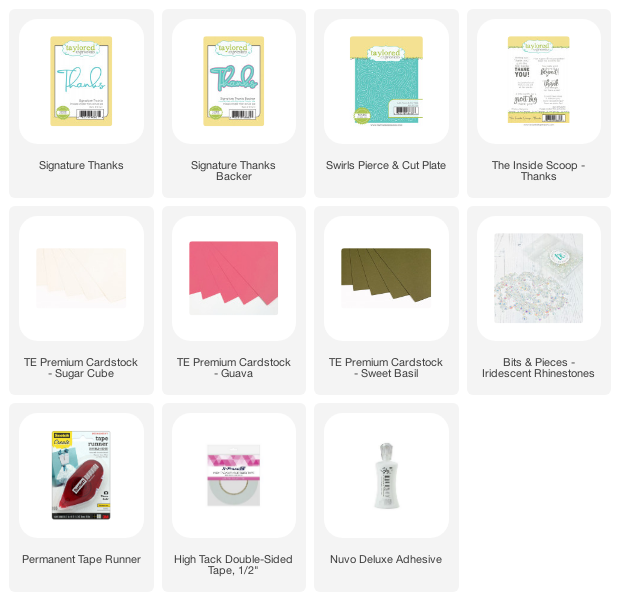 What a Hoot cards: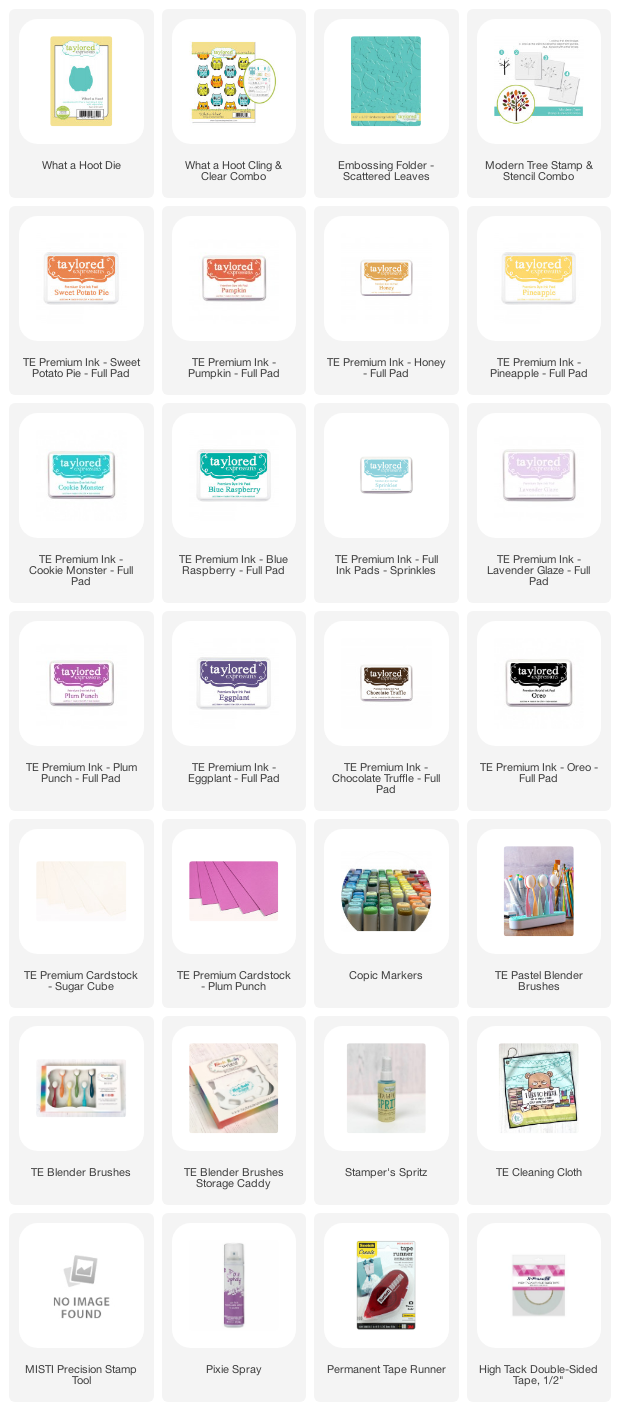 Find the TE Blog Post HERE with a plethora of inspiration from the TE Creative Team!
Thanks so much for stopping by –I can't wait until Fall! Except, please hold the pumpkin spice. None for me thanks. 😉
Take care 🙂