Today, there is a NEW Kit available over at  Taylored Expressions! It's call the Abstract Kit and it has endless possibilities! There are so many different ideas and color combos I can think of with these stencils alone. Gah! 🙂
I started out using the stencils mostly with different color inks. I chose a more Fall inspired palette, mostly because I was all about the autumn colors when I made these.
I used the Frame in Frame 2 die and a combo of the stencils with the stamps to create little piles in the corners.
I love cards like these because I feel like there are endless possibilities to colors and configurations with these. This makes them fun to mass produce and super for making and gifting card sets!
The stamps are fun to add on top of each other or just as little bits here and there. These are so simple but yet they were so fun to design.
AND for the record, I used Avocado ink… and I'm not sure I have ever used Avocado before? Is that possible? ha! 🙂
I finished off both of these with some twine and some stitching. ❤
I also wanted to use the Subtle Sprigs die set  additional die cuts, Branch Out die set, you can add on to your kit.
For this card  AND the next, I also branched out (wink wink) and used the Dijon cardstock! Again, have I used this before? I really stretched my color windows for this kit. 🙂
I die cut from both the Dijon and the Sweet Potato Pie, piecing everything back in again. For the backgrounds on both my cards, I used the Shiplap Background stamped with Mushroom.
The Shiplap Background is in that must-have category for me. So versatile! I also used Plum Punch! Seriously, who am I? I clear embossed the sentiment on Vellum to make them stand out a wee bit more
And once again, I finished these off with some twine and stitching. 🙂
This kit is easily one of my faves. I know I probably say that often, but thinking about using all these graphic stamps and stencils on my other projects so easily, makes my little crafty heart sing. 🙂
All these products are available now over at Taylored Expressions.
Here's the TE scoop:
Here's everything included in the In the Abstract Kit – which is available for $72:
Abstract Accents Stencil & Clear Stamp Combo set
Bitty Blender Brushes – set of 2
Subtle Sprigs die collection
Clearly Crafty Beautiful Soul stamp set
Bits & Pieces – Black Rhinestones
6 A2 Envelopes: 1 each of Toffee, Poppy Seed, Sweet Basil, Avocado, Salt Water Taffy, and Oreo
Packaged in a zippered pouch with a custom kit label
Limited quantity available. Most items are not available to purchase individually.
Kit add-ons available to purchase separately: additional envelope seals (set of 10) and the Branch Out die collection.
Abstract Stenciled Cards:
&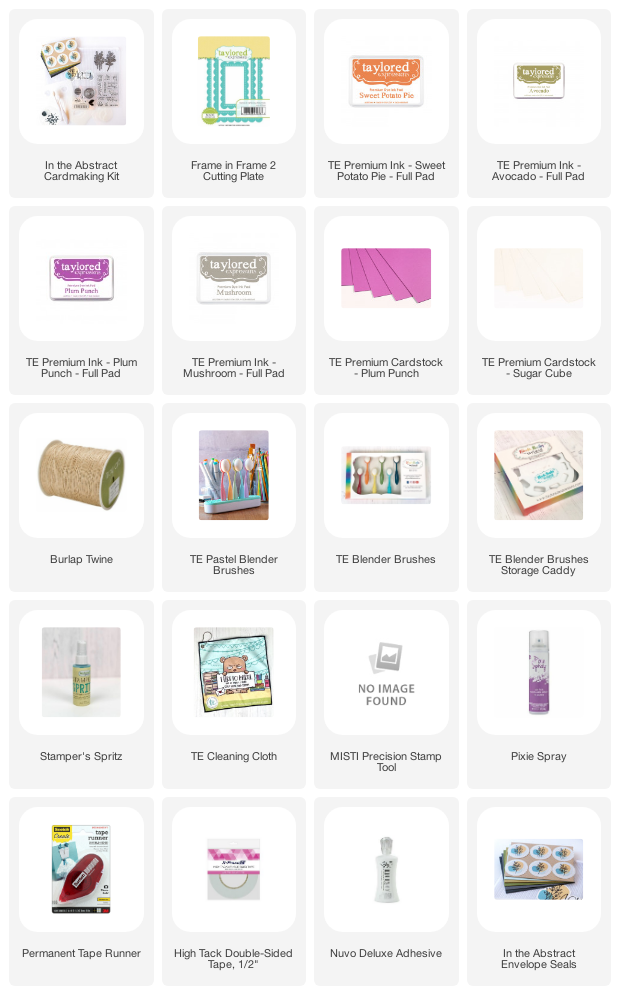 Abstract Die Cut Cards: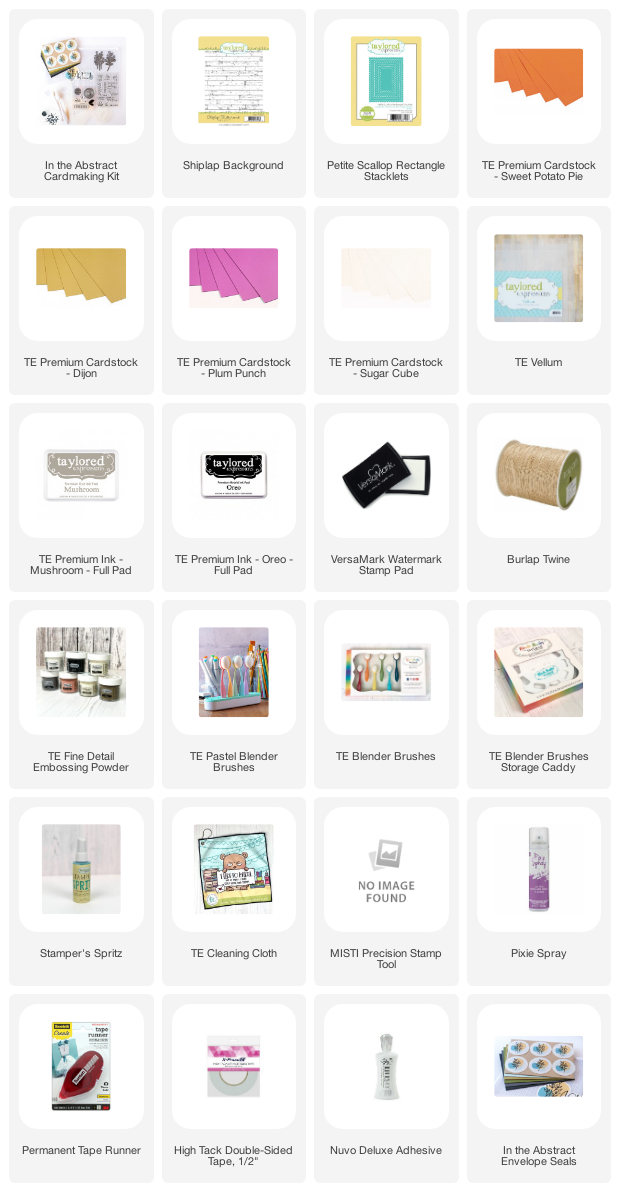 Find the TE Blog Post HERE with more abstract inspiration from the TE Creative Team! They are SOOOOO good! 🙂
Thank you for stopping by! Take care 🙂