Taylored Expressions has a New BIRTHDAY Release today !!  Taylored Expressions is 13 years old, so now officially a TEENAGER!! ahhhh! 🙂 Happy Happy Birthday to TE!! 🎁🎈✨🎈✨🎁
To celebrate, TE has a bounty of things going on this month–you definitely want to check out the Taylored Expressions Blog this month. Lots of challenges and giveaways and all sorts of goodness!
For now, let's get to this fun new release, shall we?
First up, we have the new Sweet Shoppe Stencil & Clear Combo that is a tasty little delight! Anything that layers this easily to give such fun results: I'm all in!
The Cupcakes themselves are created with the layering stencils. That simple lovely effect you get with just using a heavier hand with the same ink is genius! So easy to use and this makes them so fun to create!
Once you have your cupcakes all set up, then you can use the clear stamp set to go back and add sprinkles and all the details, if you so desire. Even without them though, they are sweet enough to eat! 🙂 Check out all the ink colors I used in my supply list below–a rainbow!
The background on this Mini Slim Card I created with the Mini Slim Swiss Dots stencil and the fun stamps from the new Piece of Cake stamp set. The sentiment is from the new Mini Strips-Birthday. I think I used every sentiment in this Mini Strips set this month? ha! 🙂 Good stuff!
Next up, I have this fun shaker card using the Piece of Cake die and all the new Tiny Diamonds in Bold and Pastel! I thought this one turned out fun with all the colorful layers. TE actually auctioned this one off for charity–I hope it was able to raise some money. 🙂
This isn't difficult to make by any means, you just have to be precise with cutting your foam tape to get in between the cake layers. Also, I used the die upside down, but don't tell anyone ;).
The sentiment is again from the Mini Strips-Birthday set. Eat All the Cake!! 🙂
And one more card for today–it's a funny one using the new All Inside-Snarky Birthday. (Which, incidentally, I used on the other birthday cards here today, but then forgot to take pics–I ALWAYS forget to the photo the insides!! gah!)
How true is this sentiment? Seriously embarrassing. haaaaa!! I also use a festive fun new stencil called the Sprinkles Rotating stencil. And that's excactly how it works. Set it up, blend some ink, rotate, rotate, rotate and voila! I used a few different colors per rotation, but using just one would be perfect too!
The cute little car is from the Punny Notes set. I love that little set of cuteness and find myself reaching for it often. I colored the car with Copic Markers. Excuse me while I go turn down the stereo. 😂
Too fun! There is a boatload of other new goodies in this release, so you're definitely going to want to check out the rest of the Creative Team's projects and follow along for the rest of the month. Today is actually my son's birthday, so we'll be celebrating ourselves here today! 🙂
Here's the scoop from TE:
Right now through Sunday, September 19th (or while supplies last), you can get the 13th Birthday Bundle for 15% off! The bundle includes the Piece of Cake Layered Stencil set, Clearly Crafty Piece of Cake Additions stamp set, and Piece of Cake die collection. The discounted bundle price is only available through 11:59PM Central Time on Sunday, September 19th.
All these products are available now over at Taylored Expressions. See my links below  🙂
Cupcake card: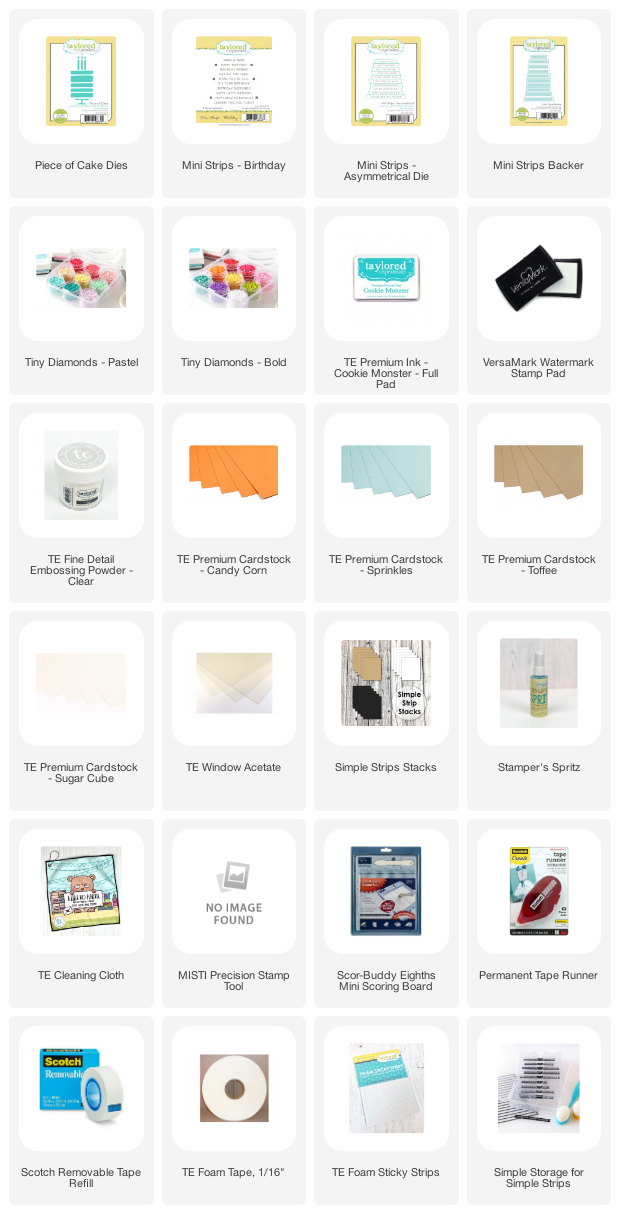 Getting Old Radio card:

Find the TE Blog Post HERE with a plethora of inspiration from the TE Creative Team!
Thanks so much for stopping by —Happy 13th Birthday to Taylored Expressions!! What a fun celebration to have–Lucky 13!!
Take care 🙂