Happiest of craftastic Birthdays to Taylored Expressions –TE is celebrating 11 years! And lucky us, we get to party! 🙂
This first card features the new Big Grumpy Stamp & Die Combo, Big Grumpy – Birthday and Big Cake. This bear speaks my language! 🙂 The sentiments in this set are SO FUN!! 🙂
Isn't he soooo funny with his grumpy little face and this sentiment—TOO fun! The background with the candles from Big Cake is a perfect accent the "bonfire" feel. haaaaa!
He looks all innocent on this pink card–I find that a laugh in itself.  😉
Next up, I have a fun new card using the Party Pennants Background and Simple Strips – Birthday. 
If you are unfamiliar with the Simple Strips Background, I highly recommend checking them out because they are ingenious and awesome. And this one works with the original die. This is the new one, Simple Strips – Birthday.
I also used the new die, Caps Lock – YAY, which is right up my alley–because I love this simple block font. I colored the background with Copics and added some stitching for a fun little touch. 🙂 A shout out to my sewing machine for being good and not messing up my cards on the last step. I mean, it has happened, but I am guessing it is generally a user error? Maybe? Wink.

I used the Petite Scalloped dies for both of these too! 🙂
Be sure to check out all the goodness the Creative Team has made to celebrate TE's 11 years!! 🙂
You can find all my supplies and links to the Taylored Expressions Shop below.
Yay Card: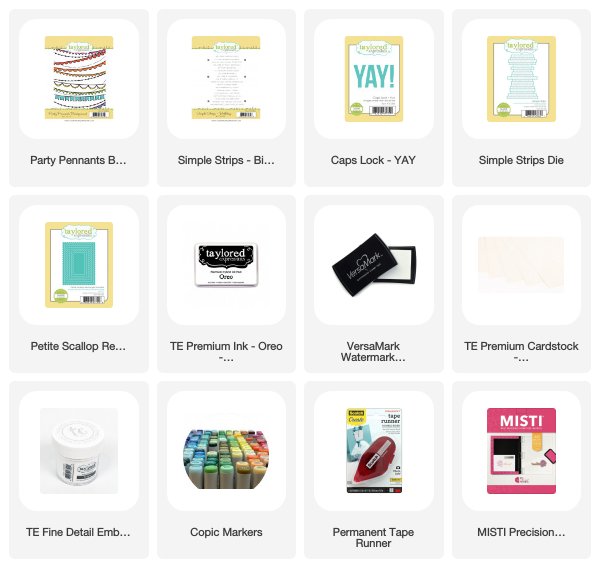 Be sure to check out the TE Blog! Here's some info direct below:
We're celebrating our 11th birthday and the gifts for you are stacking up! Here's how you can jump in on the celebration!
1. Receive a free Share Joy enamel pin with every purchase of new release products (while supplies last)
2. Free US shipping on orders of $50+
3. Orders of $75 will be entered to win 1 of 11 gift certificates to the TE store: ten $50 gift certificates, one $100 gift certificate! 
Offers valid 9/10 – 9/22 and while supplies last. Gift certificate winners will be announced on the TE blog on 9/23.

You'll also want to check out the TE Blog this week as we share the stories of TE friends and fans who are sharing joy through their handmade cards! During our birthday celebration, Taylored Expressions will donate 5% of new release product sales to support one customer's mission to provide a backpack filled with love and hope to children being placed in foster care. Read Louise's story on the TE Blog and continue to follow along as we tell Share Joy stories throughout our birthday month!
Thank you for stopping by today! And don't forget to be sure to check out the rest of the Taylored Expressions Creative Team projects. Sure to be awesome! I love to share these projects and be a part of the fun! Happy Birthday, TE!! 🙂 
See you back here tomorrow!
Jill