Taylored Expressions has a New Release today with a boatload of new Foil It Panels! This has been my recent go-to for making card sets. It adds a lot of fun really simply and elegantly. Plus, let's face it, I just love to run the panels through the machine with all the foils!
First up, I have a duo using the Gathered Greenery Foil-It panels and the Branches & Blooms Foil-It panels. Both of these are foiled in Silver foil to keep them easy to add color too. Though, I think any solid color foil works to add color too. I mean, why not, right?  🙂
The Gathered Greenery card I used the Rectangle Masking Stencil on. I blended on yellow and green inks–super easy. This is a great way to add some pop with no dimension.
It allowed me to then add the flower from the Planting Happiness set and the sentiment from Foil It – On Occasion, which is also new!
The Branches & Blooms card includes a sentiment from Simple Strips In Reverse – Everyday Occasions which I also foiled in Silver.
I colored this with Copic Markers and I love how soft it turned out!

I backed the sentiment with Easy Strips–all the sizes!
Next up, I have the Mini Slim Botanical–I decided to foil this one in Denim and add the rosey pinks of Guava and Cupcake to the background.
I silver heat embossed the Mini Slim Botantical Sentiment on Vellum and stitched that on the inside, adhering it all with foam tape for some oomph!
I thought this one turned out lovely and I had wished I made a few more at the time! ha! Always.
Lastly, I have the new Foil It-The Right Angle with an edgy card. Ok, it's not edgy but it is on the right angle. Bwaaahahahhaa! Ok moving on… 🙂
I thought I'd try out a new color way for this one: Dijon, Poblano and Mint Julep. I like it–it can be used for men and women… score!
Once again, I used the Simple Strips In Reverse – Everyday Occasions for the sentiment. I wanted some stars, so I cut all the Little Bits-Stars out of the remnants of the above Simple Strips. It just takes a little patience and determination and you can get well over a dozen stars out of the scraps. So I stashed those away for the future. 😉
It reminds me of stained glass for sure!
Lastly, I thought I would share the card set I made to gift to a friend. These panels, Foil It-Full of Flowers, were previously released, but they are still available and the foiled sentiments are the new ones called Foil It – On Occasion (The On Occasion die was previously released and works for these too!)
I just gave these to her and I do believe she loved them as she said she was going to stash them. 😂
That little added touch of foil is fun fun! And with the stencil to coordinate–color, color done! 🙂

I kept them simple with just a touch of added stitching to round them out. This will make them easy to mail. Don't forget the TE Envelope Seals!

Such a great little gift to give! 🙂
Here's the scoop from TE:
Right now through Sunday, June 26th, purchase 5 or more Foil It packs get a free metallic foil (our choice of Silver, Gold, Rose Gold, or Copper) FREE! It's a great time to stock up and collect the Foil It packs that you have had on your wish list! Offer good while supplies last.
Get Started with Foiling Kit:
Are you ready to start foiling, but don't know where to begin? We have you covered with the Get Started with Foiling Kit. The kit includes:
3 rolls of Deco Foil (1 roll each of Gold, Amethyst Watercolor, and Rainbow Shattered)
4 oz. jar of Glitter Grab
2 stencils (Delightful Daisy and Floral Points)
Deco Foil Toner Sheets pack
Foil It – Paradise pack (12 panels)
1 Stencil Pal
Purchase of the Get Started with Foiling Kit gives you access to our virtual Intro to Foil Class taught by Susan Block. Susan will go through all of the basics with you to get you started with toner based foiling and foiling with our Glitter Grab using stencils!
Add on a Mini Minc machine to the Get Started with Foiling Kit for 10% off!
Offer valid while supplies last.
All these products are available now over at Taylored Expressions. See my links below  🙂
Gathered Greenery card: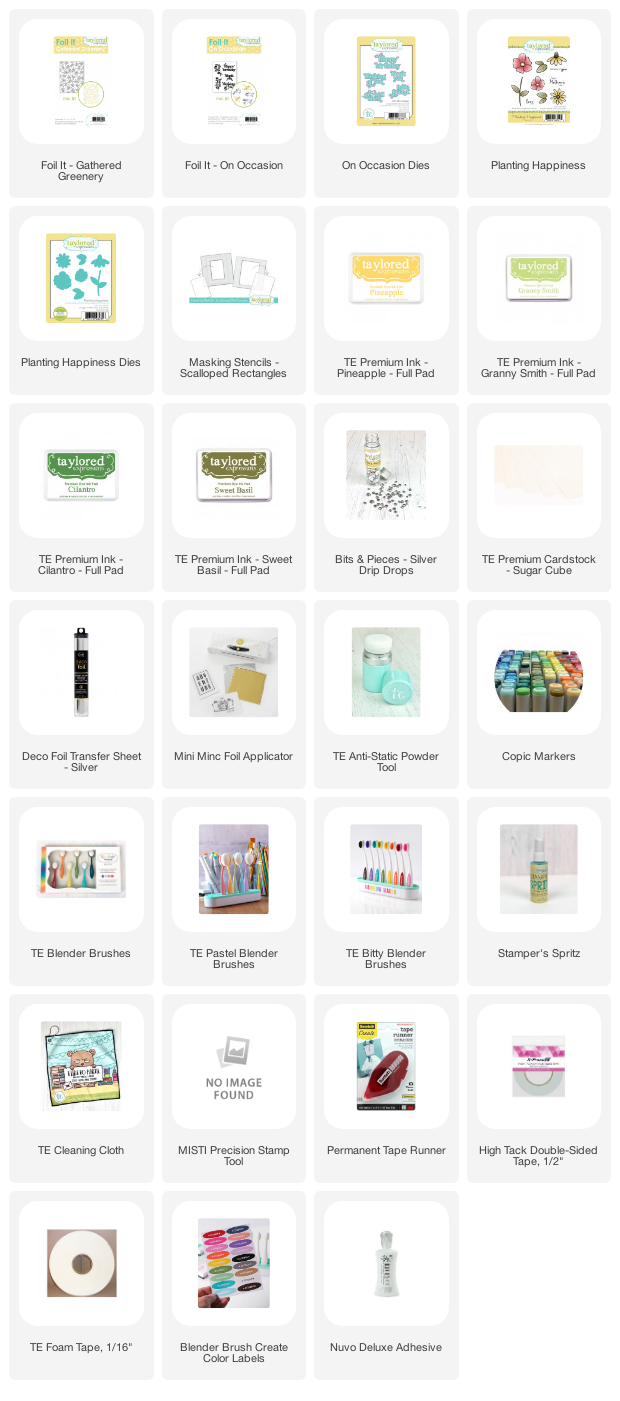 Branches & Blooms card: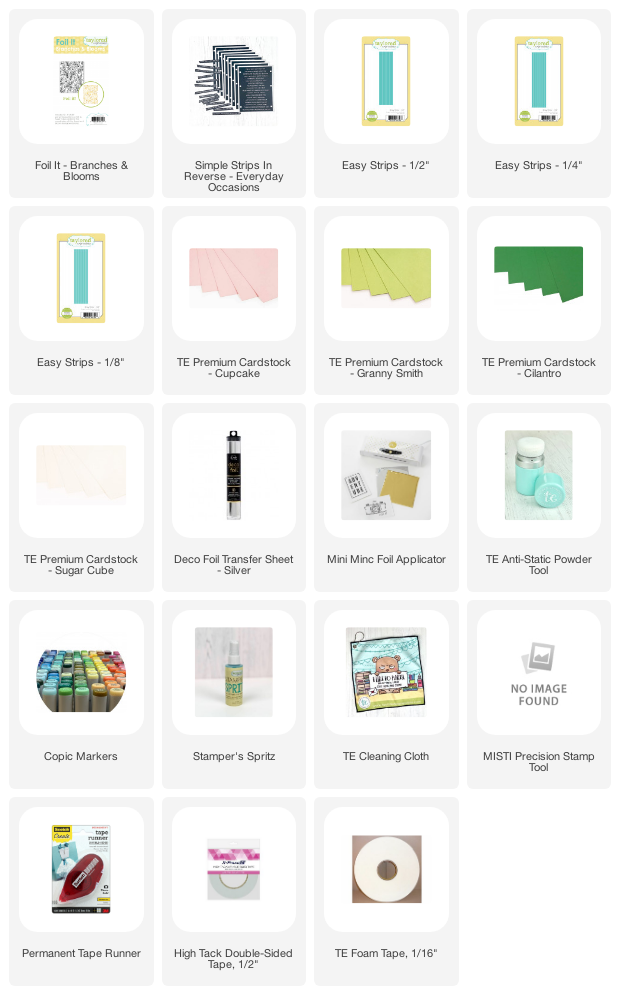 Mini Slim Botanical: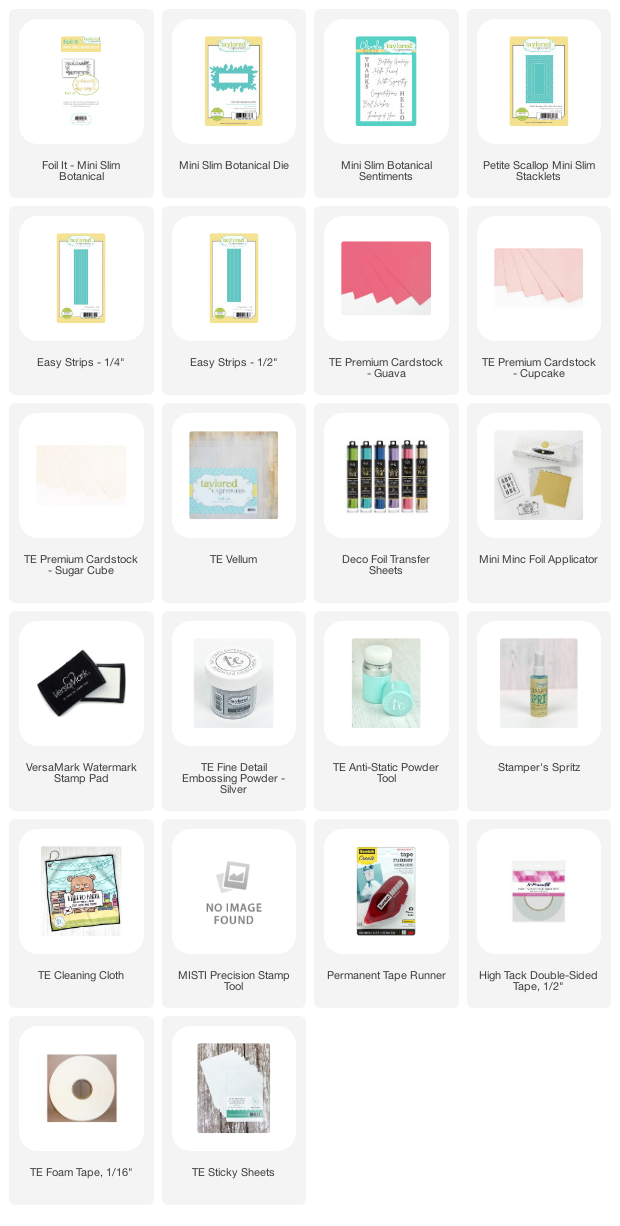 Find the TE Blog Post HERE with lots of FOILTASTIC inspiration from the TE Creative Team! 😉
Thanks so much for stopping by! 🙂
Take care 🙂