Taylored Expressions has a New Release today for Halloween!! 👻🍂 This is always a fun release and makes me long for crunchy leaves and layers of clothes… because our Fall is often really cold in the morning and then by noon you are sweating bullets. Ha! But I digress… on to the new Halloween Release!
First up, I have this spooky little glittertastic number! For this, I used the new Jack-O-Lantern Stencil with the Glitter Grab and TE Glitter. I was quite sparkly when I finished.
This sentiment is from the previously released Handlettered Halloween. I stamped it on Eggplant and clear embossed for some interest. I die cut the Frame in Frame 2 die with the TE Glitter Cardstock. I love how that made quick work to create a sparkly frame!
Next up, these fun little treat Halloween Critter Clips and with glassine treat bags! And then there are these stickers too! Gah, always enjoy the stickers! ❤
I used the TE Halloween Felt Bundle felts and adhered them on some Oreo Cardstock for heft. This extra step also made it easy to attach them to the clip. I love the spider best maybe? Don't tell the other spooky cuties though. 😉
He's too funny! Naturally, I had to add some google eyes to these guys too. 🙂
These are going to be so fun to give to coworkers this Halloween. Though, I might eat the candy and replace it closer to Halloween…? shhhhh…
And lastly, I thought it would be fun to make this shaker card with the new Sugar Rush lil lollipops.
This was a fun one to make. I decided to die cut the lollipops out and then re-insert them into their negative cardstock. This just made it easier to use the stencils on them to create the designs. It allowed me to know a little better to center the lollipop. And yes, do not adjust your screen–I did make a lavender lollipop. 🙂 I masked off the sticks to create stripes.
I thought this would be extra fun as a spiral and a shaker card. These could easily be made into Halloween colors as well. All the Sugar Rush treats would be super fun for tags–especially for treats!

The Simple Strip sentiment is from the SS Thanks set. I stamped that on Toffee and white heat embossed it. Actually, I did this way back. I am a big fan of stamping a lot of Simple Strips at once and then storing them in the Simple Strips Storage Containers  until I need. Nothing makes my cardmaking day like having an embossed sentiment all ready to go! 🙂
Here's the scoop from TE:
Free envelopes stickers promotion:
With any purchase of Halloween products (old and new!) of $75 or more, you will receive a FREE pack of envelopes and custom Halloween envelope seals. The pack includes 10 envelopes (2 each of Candy Corn, Pumpkin, Oreo, Toffee and Sugar Cube) and 10 exclusive envelope seals (these seals are not available to purchase). This offer is valid through Sunday, August 15th, or while supplies last.

Free class promotion:
When you purchase the Spooky Collection (Jack-o-Lantern Cutting Plate, Jack-o-Lantern Stencil, On the Block – Boo and On the Block – Boo Shadow) through Sunday, August 15th, you will get a free exclusive 2-card video craft along class with Taylor!
This mini version of our Online Crafty Classes is a great way for you to put your new Halloween goodies to use right away making two different cards at your own pace! Watch the videos as often as you like and learn some new cardmaking tips and tricks while discovering inspiration for more designs!
Once you complete your purchase, you will receive an email (separate from your order confirmation email) with links to the class videos on YouTube, as well as a Tips & Tricks Download that you can use to jot down notes as you watch.
Although Taylor will recommend colors for ink and cardstock, you can use anything you have to make these projects uniquely yours!
Hurry! This offer is only valid through 11:59 pm (CT) on Sunday, Aug. 15, or while supplies last.
All these products are available now over at Taylored Expressions. See my links below to make things easier. 🙂
Jack-o-lantern Glitter Card: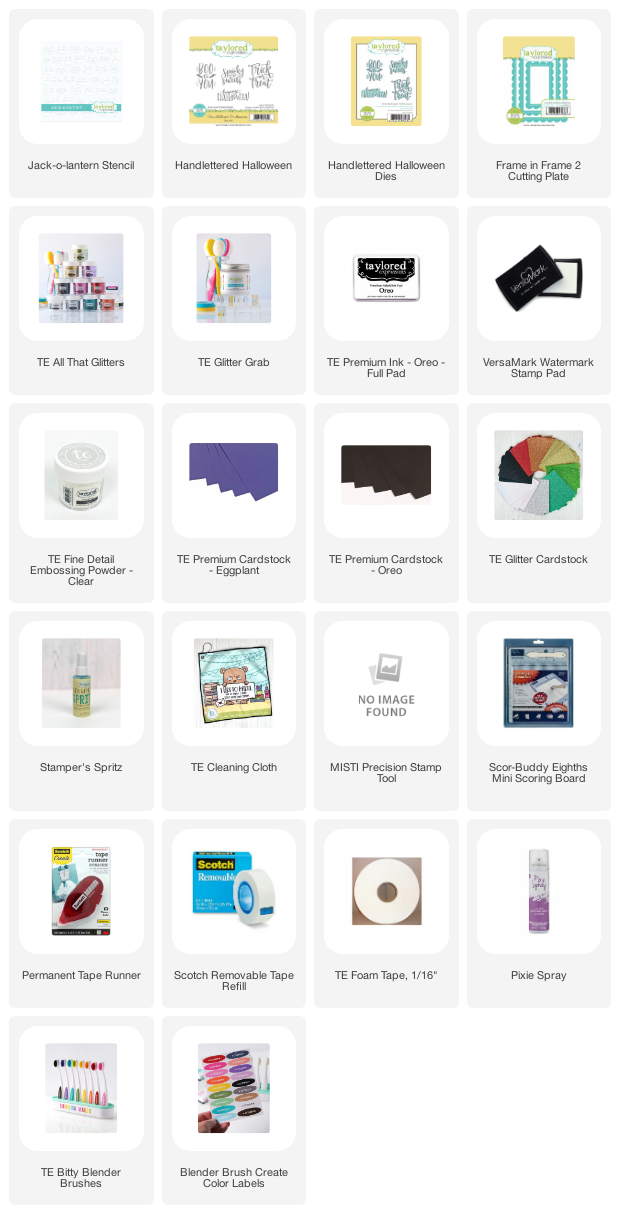 Critter Clips-Halloween: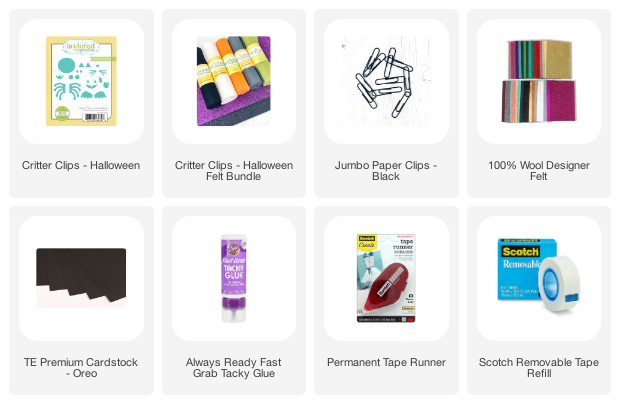 Sugar Rush Treats Card :

Find the TE Blog Post HERE with lots of Halloween inspiration from the TE Creative Team!
Thanks so much for stopping by –have a sweet and spooky week! 🙂
Take care 🙂