Happy non-official Summer! We are sneaking a new release today for Taylored Expressions! All the new products will be available over at Taylored Expressions tomorrow, June 2nd. This release is full of fun patriotic pride–but also can be used for everyday events too!
For my first card here today, I used the new Masking Star Stencils and the new Mini Strips- Patriotic! Yessss! New Mini Strips!
I also used the just previously released Plaid Layering Stencil over top the Masking Star Stencil. Double stencil action! This turned out so swimmingly! 🙂
Too keep the Masking Star Stencil train going, check out this alternate way of using it for everyday fun! I thought this was perfect to send a friend that just helped make me laugh along the crazy ride lately. 🙂
I also stamped the Fireworks Background-Stamp to help create a *twinkly* background–just the background stamp alone stamps awesome for backgrounds. I used two sets of Simple Strips for this card's sentiment–Simple Strips- Friendship and Mini Strips-Life Saver. For this card, I also used the Masking Stencil-Rectangle & TE Blender Brushes to create a little color fade in the background before scoring around it to frame it further.
Alrighty–now…Let's switch gears to that Fireworks Background-Stamp and Stencil–Just a warning–it's super fun and very addictive. 🙂 I used this Stencil and Stamp combo to create a fun Birthday card! Who wouldn't want a festive display of happy for their big day?
This combo in ingenious…. First, you stamp the Starry Background. After that, you take one of the Firework stencils and line it up with the stars. (It doesn't matter which one you use first.) After that, you take the second stencil and repeat. The beauty is: You can create different color sprays for each firework. Sure did love that and had so much fun thinking of all the different things to make!
For this one, I added a little Nuvo sparkle action to create some more pizazz!
Next up, I'm back to the Patriotic vibe. This one uses the new Starry Background Stamp along with the Starry Stencil! Another great set to create a layered look. You can just stamp the Starry background and be done by coloring it or blending over it entirely or some many other things! OR you can use the Starry Stencil with the stamp, like I did to create a pattern…. or blend all the stars with the same color ink. So many possibilities, just to name a few!
Bonus–there is a die that cuts all the stars out! I didn't use it here, but it's pretty awesome for a 1-2-3!
I first stamped the Starry Background with Versamark and then added clear embossing powder over top. After that, I sprayed my stencil with Pixie Spray (Pixie Spray is clutch!) and blended on all the inks with the TE Blender Brushes. I just masked off the surrounding stars a bit to protect them from the other colors. Super easy to do! I finished it all off with some more sentiments from the forthcoming Mini Strips-Patriotic.
And I have one last card for you here today–this one again uses the Masking Stencils Stars and Mini Strips-Patriotic very simply.
I wanted to keep it simple because I thought if I had a design I liked that was fairly simple and flat for mailing, I might make a handful and actually get them out this summer! 🙂
I used the TE Blender Brushes again here and just simply covered up the stars I didn't want to blend with some post it notes. Blend, blend and done! I also added a little Nuvo sparkle to this one to finish it off.
You can find all my supplies and links to the Taylored Expressions Shop below.
Plaid Star card: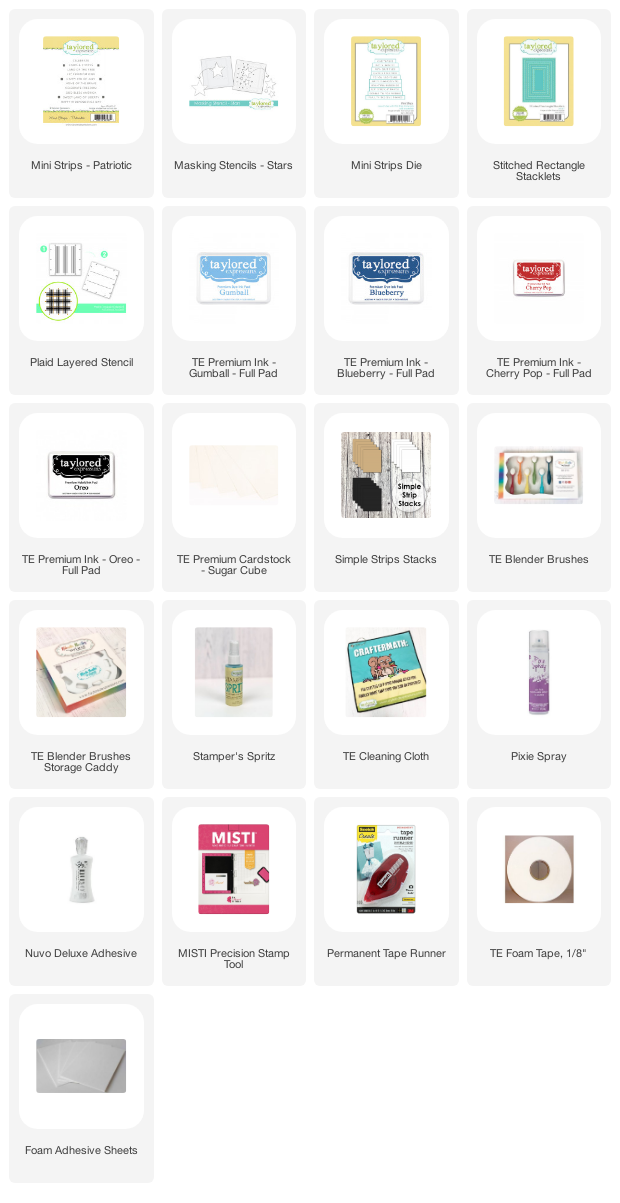 You Made it Better card: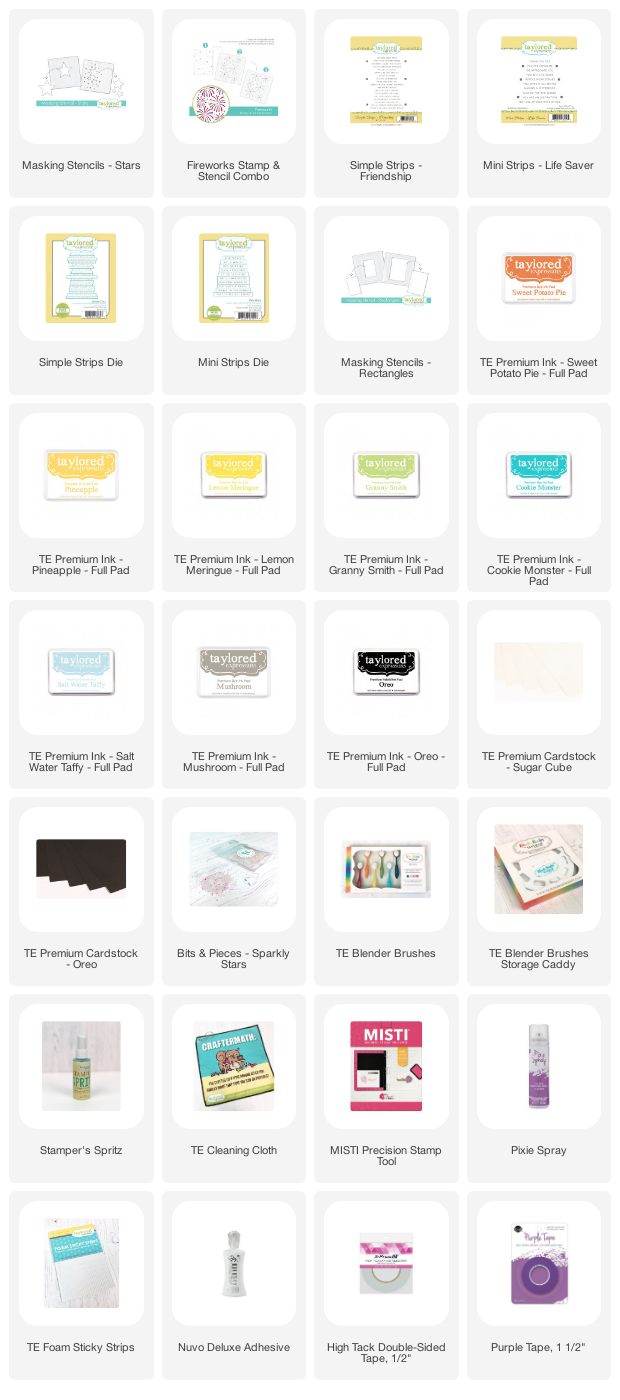 Happy Birthday card: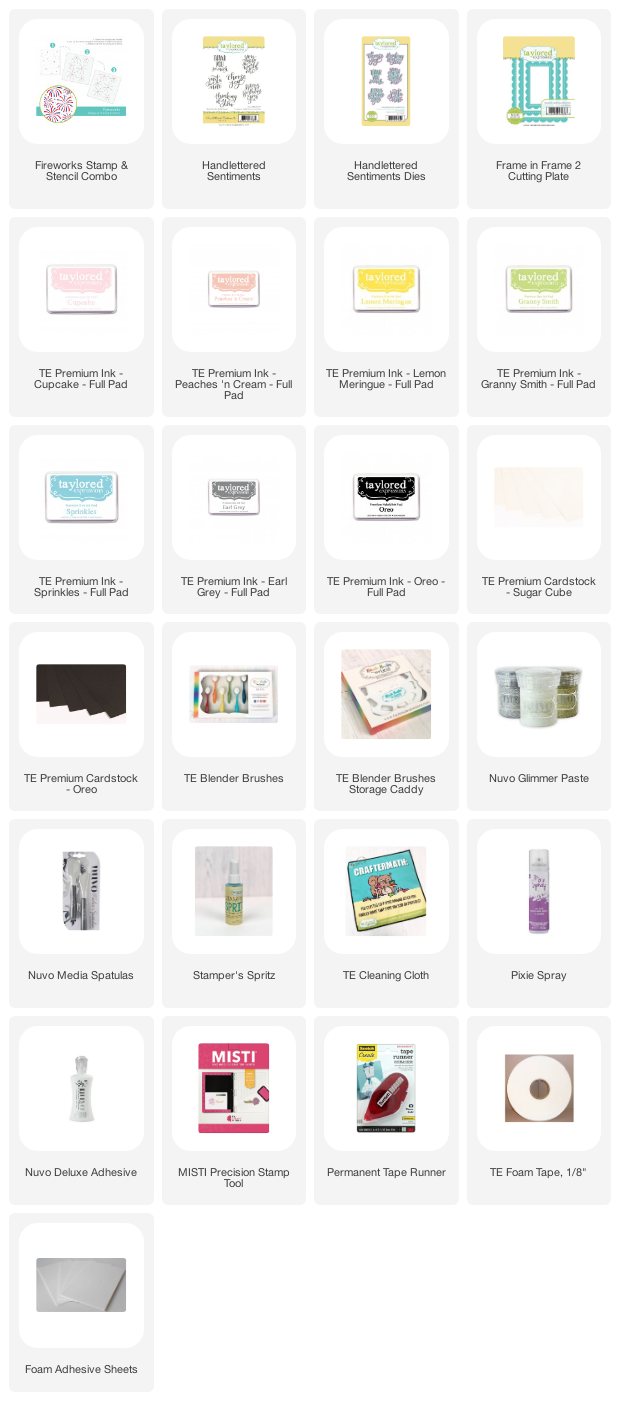 All these products are available tomorrow, Tuesday, June 2nd at 9am central over at Taylored Expressions!
Also–here's a little inside scoop direct from TE:
Get the Stars & Strips Bundle for only $30 from June 2nd – June 7th (or while supplies last). And no, that's not a typo… it's STRIPS for the sentiment strips! The Stars & Strips Bundle includes the Fireworks Stamp & Stencil combo and the Mini Strips – Patriotic stamp.
Find the TE Blog Post HERE with more inspiration! ❤ The TE Creative Team has me seeing allllll kinds of stars this release–good gracious! They are a talented group!!
Thanks so much for stopping by! I hope you have a great week and you're inspired to make a few Patriotic and/or celebratory projects too!
Take care 🙂