I could not be more exited to share this news and post for Taylored Expressions Blender Brush Release! I am telling you these whole kit and caboodle is a cardmaking game changer!! I have been busting with this awesome secret for what seems like FOREVER!  ❤
The bristles are white, so you can see the color you put on them. BUT most excitingly, the handles are COLORED in rainbow colors!! Oh good gravy–I'm telling you, I eeeeeeped with delight in seeing them! But WAIT there's more…. there is a Turning Caddy to store them!! And/or just spin them for fun, like I often do!! 🙂 Check it all out over at Taylored Expressions now! Yay! ❤
Naturally, I could not WAIT to use them ALL!! And now, I can't stop! Here is a fun card I made using them:
I had so much fun making this card and then adding the stitching!! Eeep!! The blending with the new brushes was effortless so much easier with the colored handles to know what I was grabbing! But, now that I am posting it, I see I forgot the I's tittle! Oh good gravy!! I am going to need to add that. How did I not notice it til now? ack.
I just love how this turned out overall. The brushes make it so fun to blend and truly, the white bristles, colored handles and turning caddy are just icing on the cake!! So fun and so pretty to use! 🙂
You can find all my supplies and links to the Taylored Expressions Shop below.
Kindness card: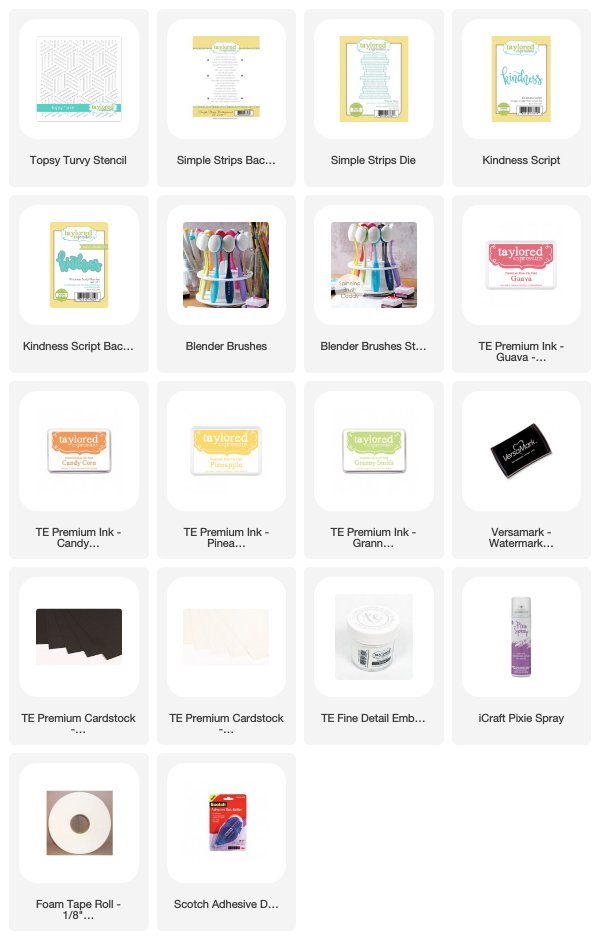 All these products are available now over at Taylored Expressions!
Be sure to check out the Taylored Expressions Blog HERE for the latest and for information about FREE Shipping and how to get a FREE gift!! 🙂
Thanks so much for stopping by this week and happy blending!! 😉