Hello and welcome to a SUPER FUN release celebration for  Taylored Expressions! This new Somewhere Over the Rainbow Kit is available NOW over at Taylored Expressions TODAY, May 12 right HERE!!
This release is ALLLLLL about the Rainbows and sending some much needed to cheer in the mail…and do you see the envelope seals?! Gah!
Let's get this party started! 🙂 I have A LOT to share!
This first rainbow card is made with kit's Masking Rainbow Stencils and my TE Blender Brushes. First, I blended on some Sugar Cube ink to give the dye inks a nice solid layer to blend on. It makes the finished product more vivid when you are using colored cardstock.
I also used the Frame in Frame 2 die to finish it all off. Eeeep! I sure ❤ this sentiment! 🙂
Next up, I have one of the simplest cards I made but one of my faves! The Rainbow Masking Stencils are super easy to use because there are two different stencils. The spacing makes it easy to not blend into the wrong arch. That little smiley is adorable!
The smile fits fantastically on the little clouds, but I thought maybe the Rainbow wanted to smile too. 🙂
And then, we have the dies!!! Oh goodness–how FUN are these!? These sweet sentiments are the perfect font and so delightful for these cards. ❤
For this card, I embossed the  background with TE's Cloudy Days Embossing folder and then inlaid the die cuts, added some stitching.
These clouds are the perfect finishing touch. There are two cloud dies in the kit. One is simple and the other has the little pierced dots on it. Both match each other and it's great to have the two options.
While we are on the dies, how about a shaker card? This is too fun! I added the previous released Rainbow Sprinkles, Full of Heart and Sparkly Stars to make a mix. All that sparkly action allowed for me to keep the cardstock simple in Sugar Cube.
This is a fun one and very easy to make. I highly recommend using the TE Foam Strips. They are not only perfect for the Simple Strips sentiments, but they bend SUPER easy for shaker cards, making it much faster than using foam tape. 🙂
I just love this little rainbow! ❤
I have a couple cards I made on Toffee cardstock too! Who am I? I'm not sure, but I thought it would be fun to blend the Rainbow again with Sugar Cube ink first, giving the ink a *base* and then blended the dye inks over top a few there.
Mixed it up with the rainbow colors on this one too. For the little pattern stamps, I wanted a light gray, so I off stamped the Earl Grey ink and then stamped it on here so it wasn't quite as dark/bold.
This is another fave sentiment in this kit. Well, who am I kidding, I actually ❤ them all! ha! 🙂
Here's another super super simple one on Toffee.
I wanted to have a variety of different cards. My plan is to circle back and make a pile to mail out. 🙂
These all just make me happy! 🙂
Lastly, I thought I'd REALLY mix it up and just use the pixelated rainbow stamp to create a multicolored background on cardstock. 
Once that was done, I die cut a couple tags out and overlaid them with vellum before stitching them. The smaller one is cut out of the larger one, but you'd never know once I adhered it back in. 🙂
Thought it would be fun to try something different with the kit. 🙂
Well, believe it or not, I think that is all I have in the way of cards to share today. I had A LOT of fun making these cards and the timing of this kit while being more at home these days made it all the better.
If you're thinking of ordering this fun kit, I wouldn't wait too too long. Quantities are limited, so hop to! 🙂 You can find the kit in my supplies below or Somewhere Over the Rainbow Kit HERE.
You can find all my supplies and links to the Taylored Expressions Shop below.
Sending Sunshine and Rainbows card: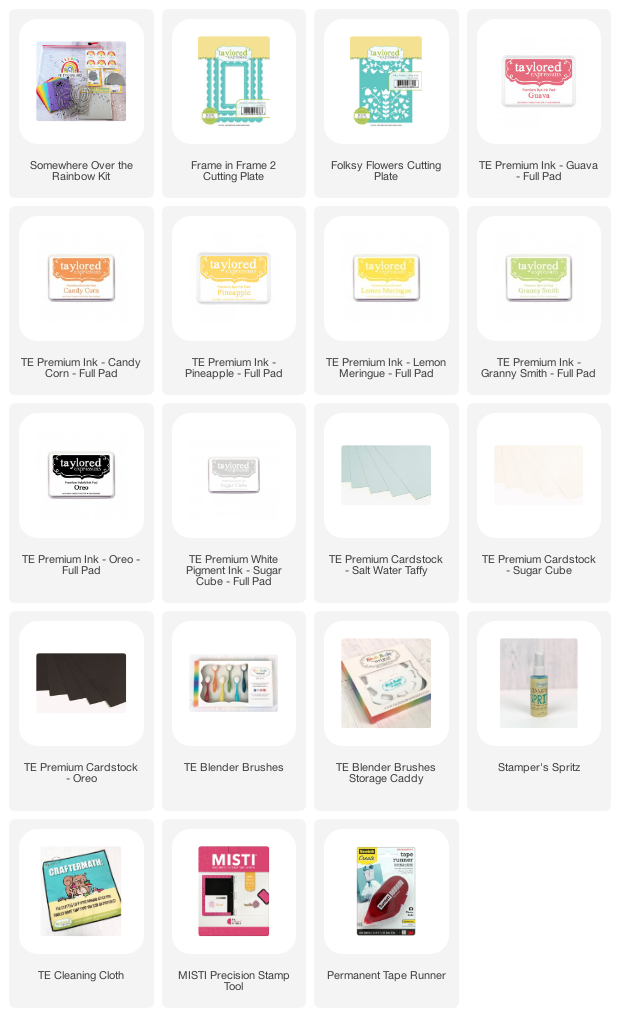 Hello Shaker card: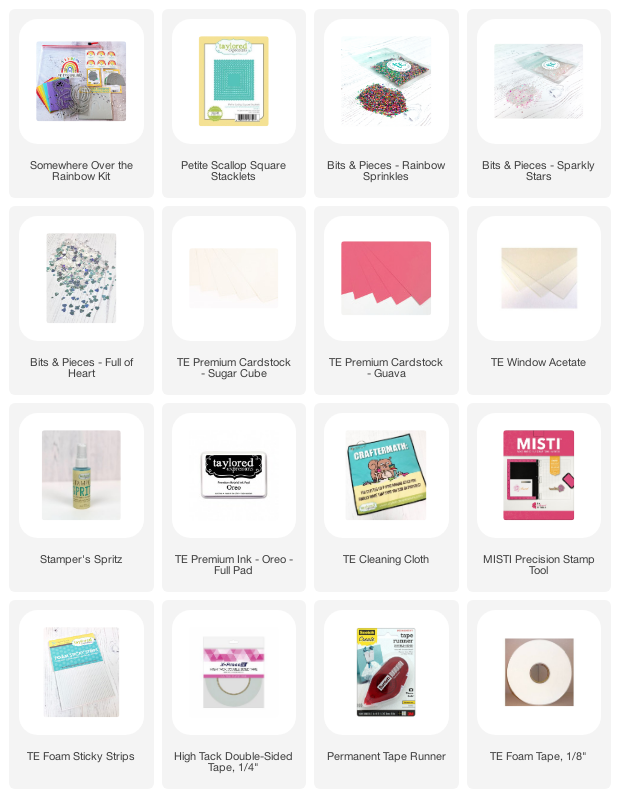 All these products are available TODAY, May 12th over at Taylored Expressions: Somewhere Over the Rainbow Kit Enjoy!
Find the TE Blog HERE with more inspiration! ❤ The Creative Team will knock your socks off!! 🙂
Thanks so much for stopping by! Hope you find a rainbow today too. 😉
Take care 🙂