Taylored Expressions has a New Release today and it is full of SUMMER fun, Glittery Goodness, COOL things and cute little treats! 🙂 There are a rainbow of TE colors available in Loose Glitter (Lollipop, Cherry Pop, Candy Corn, Peapod, Cookie Monster, Jelly Donut, Pearl, Silver, Gold and Oreo) now and it all can be adhered and enjoyed with the new Glitter Grab!
First up, I used the new Sweet Scoops and Building Blocks-Cool Additions. These Sweet Scoops are so easy to use and quite frankly, make you want a scoop or two! 🙂
You can create any ice cream flavor your sweet tooth desires! I made Mint Chocolate Chip (Mint Julep and Mushroom) and Sorbet and one of my favorites was how the Vanilla turned out! I never thought I could stamp white ice cream and with Sea Salt and a touch of Mushroom for the shading–success! 🙂 To give a little extra fun and sparkle, I used the new Pearl Glitter from TE. Alllllllllllllll the colors are so dynamic, but somehow I used the most muted one in Pearl. Ha! It just gives a subtle kick, which is what I wanted on these yummy scoops.
I added everything to the Pierced Lattice Cutting Plate background that I trimmed out with the Petite Scallop Rectangle Stacklets, of course. And all  the fun sentiment blocks are from the Building Blocks-Cool Additions.
Next up, I used the Anything is Popsicle Stencil and Stamp Combo along with the Sun's Out dies to create this totally chill card. I think those popsicles were begging for shades, so I answered the call 😎. I glittered those cuties up with the new Oreo Glitter and let me tell you, in person, SUCH fun to see that little pop of sparkle!
This fun sentiment is from the new Mini Strips- Hello Summer. I just embossed that in White on Oreo Cardstock. The simple background I created using the Mini Simple Strips-Hello Summer . I used some Lemon Meringue ink in combination with Cookie Monster. I die cut the panel all out the Mini Slim Stitched Rectangle Stacklets. This one would be fun and easy to make several cards to mail out this summer!
Lastly, we gave out a few ice cream gift cards to our little friends here, so I created these little Gift Card holders using the Tag Pocket.  For these, I used the larger Sweet Scoops Ice Cream cone and mixed up my flavors even more to create Rainbow Sherbet. TOO fun! I love all those little extra stamps for the ice cream cones and the shading on the scoops. They add soooo much so simply to the already stenciled parts. I'm a big fan of the stencils to create these fun shades of ice cream.
Hello Summer! This sentiment is from the Anything is Popsicle set.
I tried to keep these pretty simple because I was limited on time, but I think they would be super fun with the new TE Glitters and some googley eyes too!
I added a little bit of twine to each. Also, I embossed the Lots of Stars folder (that is retired–eek sorry!) but the Lots of Dots Embossing Folder is a great stand in. Gives it that little extra pizzazz fairly easily. 🙂

And now, I want some ice cream in a cone again! 🙂
Here's the scoop from TE: (see what I did there? bwwwaaaahaaahaaa!)
Get the glitter party started with our All That Glitters Glamour Box! This bundle is a $60 value for $50 and is available now through Sunday, June 20th. The TE All That Glitters Glamour Box includes: 10 – 1 oz jars of fine loose glitter (Lollipop, Cherry Pop, Candy Corn, Peapod, Cookie Monster, Jelly Donut, Pearl, Silver, Gold and Oreo) + a 4 oz. jar of TE Glitter Grab. The discounted bundle price is only available through Sunday, June 20th.
All these products are available now over at Taylored Expressions. See my links below to make things easier. 🙂
Sweet Scoops Card: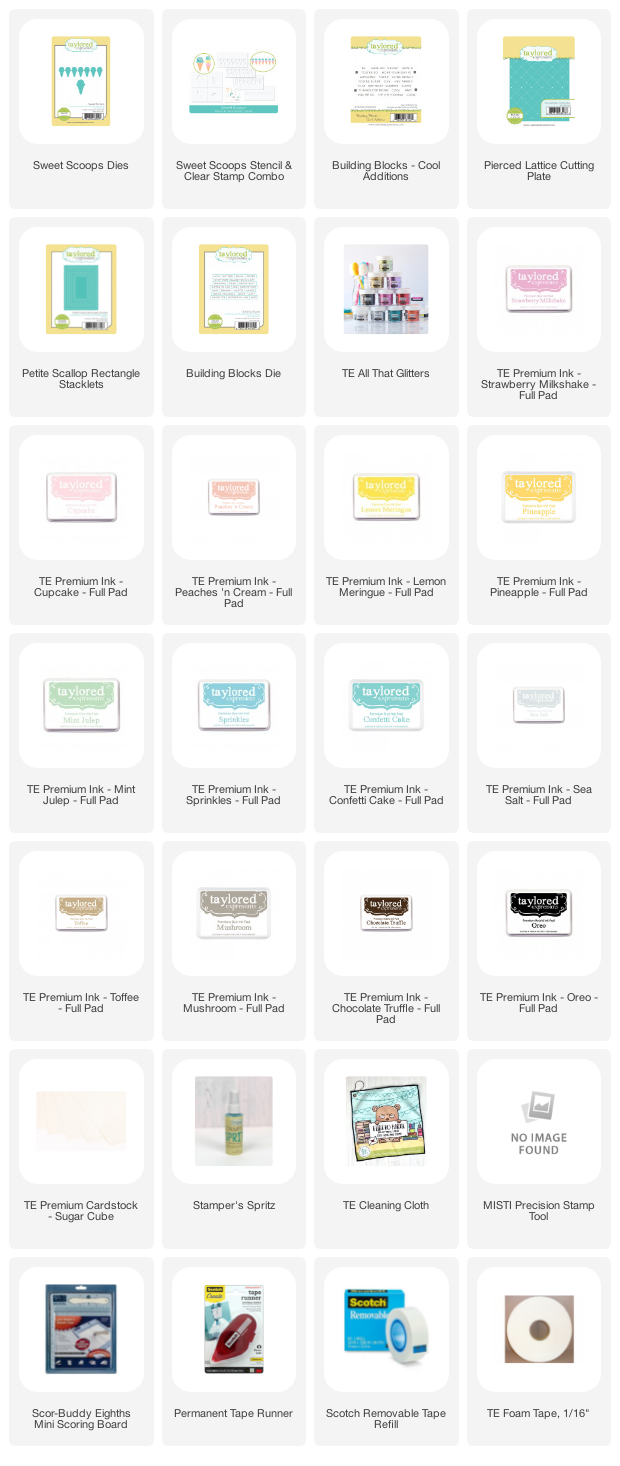 Popsicle Card:



Summer Cone Gift Card Tags: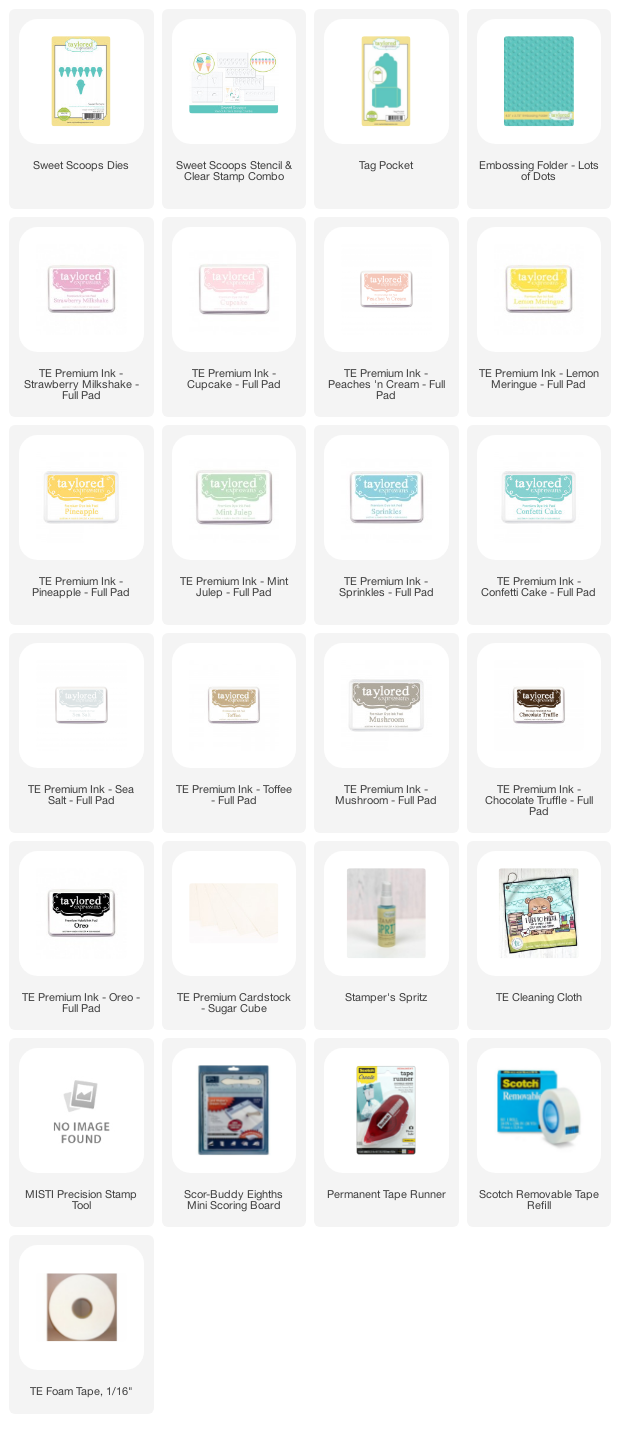 Find the TE Blog Post HERE with lots of sweet inspiration from the TE Creative Team!
Thanks so much for stopping by –have a sweet week! 🙂
Take care 🙂