Super itty bitty big news over at  Taylored Expressions today–there are NEW Bitty Blender Brushes and they are oh so very cute–they are BITTY!! AND a new White Brush and a Black Brush! Is our collection complete? I'm not sure 🤣 ! 🙂
First up today, I am using the new Rainbow Repeat. I love this new stencil!! eeeeek! The possibilities! I blended on Cupcake, Peaches n' Cream, Granny Smith, and Sprinkles. Once I blended all those on with the new brushes, I came back and filled in the rest with Lemon Meringue.

I thought it would be fun to use the little unicorn from the Little Critters set. I colored them with Copic Markers and then fussy cut them out. This sentiment is from this set too. I white heat embossed it and strung it across a frame from the Frame in Frame 2 set.

Next up, I used the new Delightful Daisy stencil. Using the new small brushes, it is fairly quick and easy to ink up the flowers individually. I didn't mask off anything. Instead, I used complimentary colors in case there was any cross contamination.
I figured this would be perfect for a Mom card–I would use this card for Mother's Day, but I think it can be used any time as well. ❤

The sentiment is from the Mini Strips – You're the Best set. I die cut that with the Asymmetrical Mini Strips die. I used the On the Block -Mom stamp and die. For the background, I used both the Scalloped Circle Masking stencil and the Masking Stencil Circles stencil, in conjunction with the new Delightful Daisy stencil.
I wanted to make one more card with the Rainbow Repeat Stencil. This one I used the Rainbow Repeat Stencil in conjunction with the Square Masking Stencil. AND…. are you sitting down? I dropped a hint of purple in there with the Eggplant. Who am I?
I thought this turned out fun adding this sentiment from the Simple Strips-Crafty set. I so enjoy that set! 🙂  I just got a bunch of my Simple Strips organized in their Simple Strips storage containers over the weekend. So happy to have them easily accessible!

All these products are available now over at Taylored Expressions.
Here are all the details:
The I Want it ALL Bundle retails for $75 and includes the following:
Bitty Blender Brushes (set of 6)
Bitty Blender Brush labels
Black & White Blender Brushes (set of 2)
All 6 new stencils
8.5″ x 11″ Grid Paper Placemat Pad
The special introductory price of $75 on the I Want it ALL Bundle is available now through Sunday, April 25th, or while supplies last!
Rainbow Repeat Card: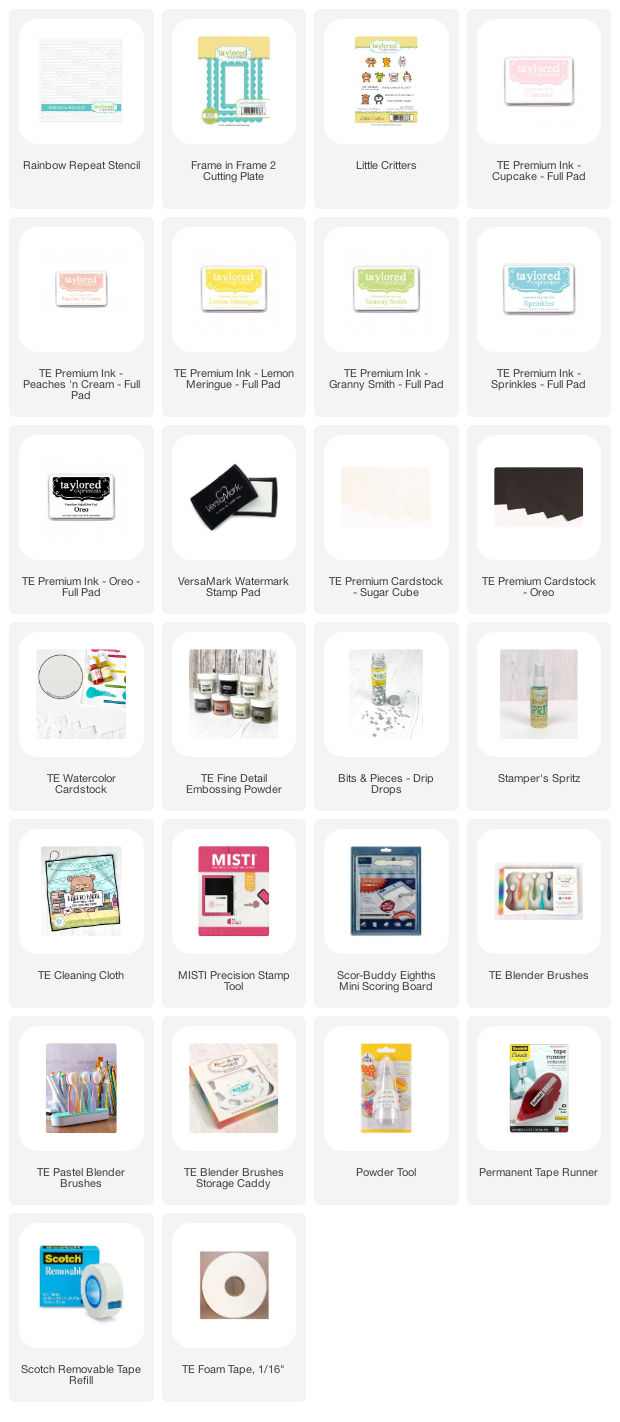 Mom Card: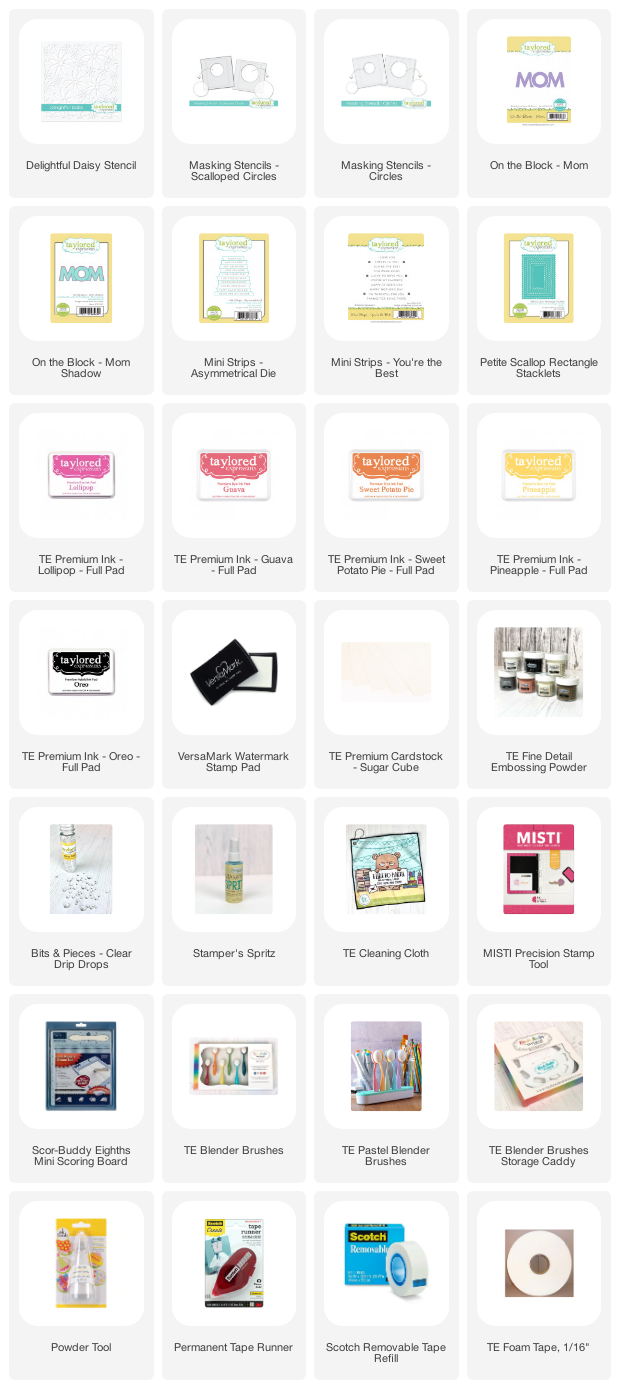 Rainbow Repeat Crafty Friend Card: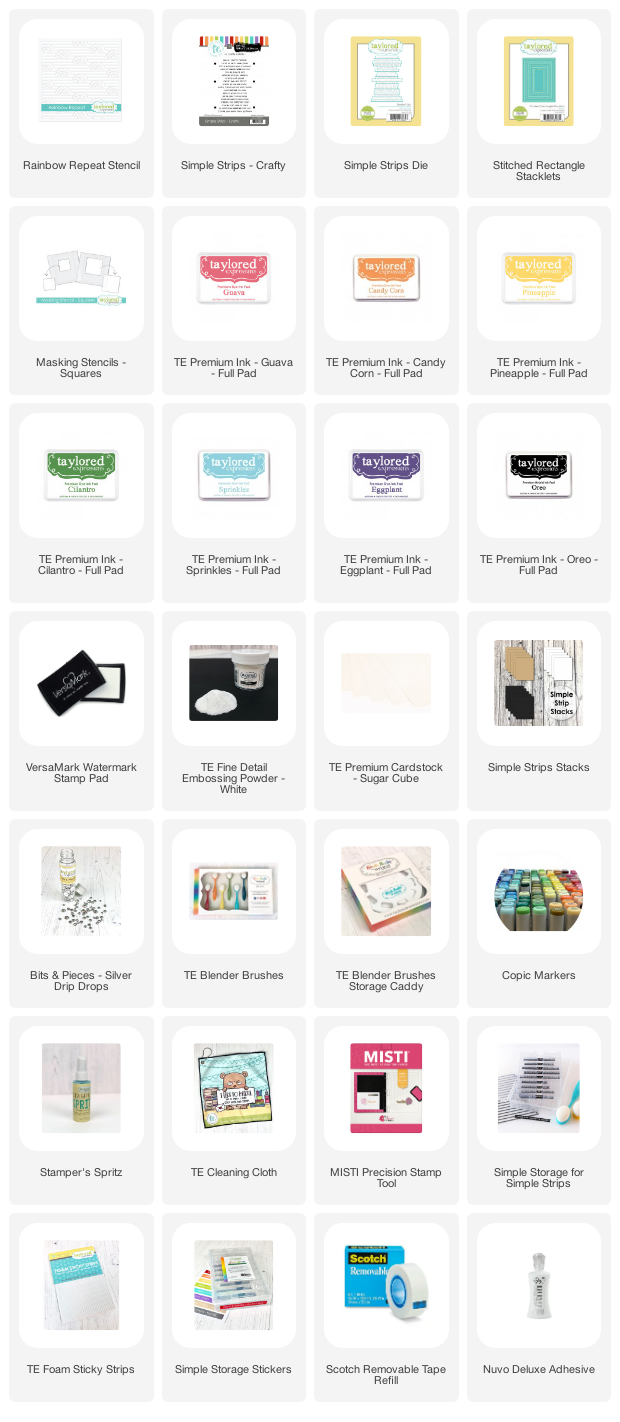 Find the TE Blog Post HERE with more crafty inspiration from the TE Creative Team!
Thanks so much for stopping by!  I hope you love the new TE Brushes as much as I do!
Take care 🙂