Today, there is a NEW Kit available over at  Taylored Expressions and it is VERY Merry! And very Bloomy. Is that a word? It is now. 😄! This kit is the perfect scenario if you just want to create a good stack of cards and get ahead for your holiday card mailings. It's all there for you, you just need ink! 🙂
I decided to try out a couple different things with my cards here today.
First up, let's talk about this card, because I think it might very well be my favorite! 🙂 It is so different from anything I have made and honestly, I'm not entirely sure how it happened. ha!
For these flowers, I used the following ink colors, blended on with TE Blending Brushes: Sea Salt, Salt Water Taffy, Confetti Cake, Potato Chip and Mushroom. I started first with the Sea Salt adding that down to create kind of a base and a good white shadow, if you will. On top of that I went very lightly with the other colors. I have seen blue poinsettias, but I am not entirely sure about them, so I gave these a white with a tinge of blue hue.
I used the stamps in the Merry Blooms Clear Stamp set to add all the details to the individual pieces. For the leaves, I inked the background stamp with a bunch of different greens and even some yellow.
The sentiment is from the Clearly Crafty Joyful Season stamp set and then I used the coordinating dies (which need to be purchased separately from the kit) to die cut it out before adhering with a couple layers of cardstock underneath.
I added this vellum frame using the Petite Scallop Rectangle Stacklets and the Stitched Rectangle Stacklets. I am digging how this turned out. It is not only full of holiday cheer, but it also says winter to me–cozy winter! The good kind of winter. 🙂
I finish everything off with some stitching and Clear Drip Drops.
Next up, I made a few tags using the Pierced Tag Stacklets and added one to the TE Clear Treat Boxes. For these I went to more of a traditional holiday red, using lots of different TE Reds and pinks. I even used Mulled Wine, which I admittedly do not use too often, so that's always fun for me!
I white heat embossed these little sentiments on some strips of Sweet Basil cardstock. Looking forward to using these tags at the holidays for sure!

On these tags and both of my cards, I also used the Spattered Background and white heat embossed that. I like how it gives it a snowy wintery look. I could use this background on most every card, I think. ❤
Lastly, I have this card, using more of a Spearmint looking set of leaves. I also used Mint Julep. This green combo is delightful.
I added some Silver Glitter to the center of these Poinsettias. Again, I also used the Spatter Background with some Mushroom ink to add little extra bit of goodness. I used the Frame in Frame die to create this panel. I added a nest of silver thread behind the sentiment to tie into the silver glitter. So festive!
Of course, I love these envelope colors in this kit and the stickers. Always the stickers. But I'm going to need some more Dijon envelopes. How do I not have these already?
All these products are available now over at Taylored Expressions. Here's the TE scoop:
Here's everything included the Merry Blooms Kit – which is available for $69:
Merry Blooms Stamp, Stencil, & Clear Combo set
Perfect Poinsettia die collection
Clearly Crafty Joyful Season stamp set
Bits & Pieces – Red Pearl & Gold Drip Drop Mix
6 A2 Envelopes: Sugar Cube, Toffee, Cherry Pop, Mulled Wine, Djion, and Cilantro
Packaged in a zippered pouch with a custom kit label
Limited quantity available. Most items not available to purchase individually.
You will be able to purchase additional envelope packs, envelope seals, the new Bits & Pieces – Red Pearl Drip Drops, and the Joyful Season die collection separately.
PLEASE NOTE: The Joyful Season die collection (for the sentiments) is an add-on purchase that is available to purchase separately. It is not a part of the kit.
Merry Christmas Poinsettia Card:

Pinks Poinsettia Card: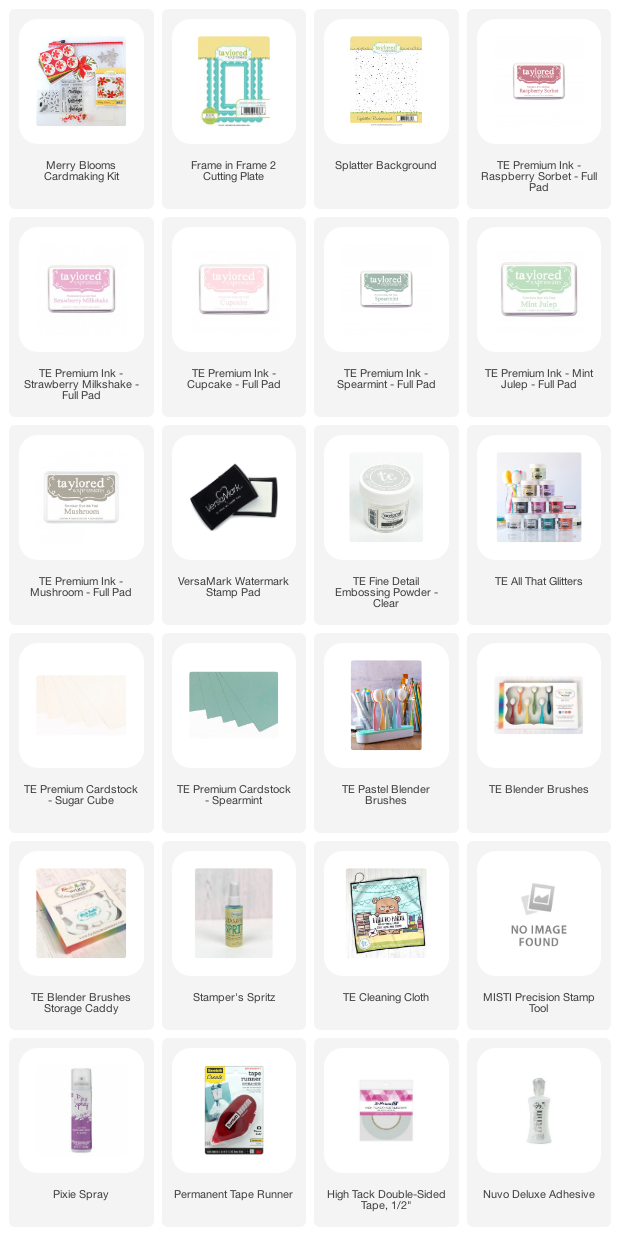 Find the TE Blog Post HERE with more holiday inspiration from the TE Creative Team!
Thanks so MERRY much for stopping by!
Take care 🙂