Today is a Hoppy  Day over at Taylored Expressions! 🙂 Spring is coming and there is a new release from Taylored Expressions today! Let's Hop to it, shall we?
First up, I thought I'd share this card using the new  Bunch of Bunnies and Oh Hoppy Day! Eeeeep these cute little  Bunch of Bunnies that are shaped wood bunnies are just the cutest and I want to put them on all the things for Easter!
For this card, I stenciled on the bunny Oh Hoppy Day background quite simply using Sugar Cube ink. I painted the Bunch of Bunnies just using white acrylic paint. After that, I decided which sentiment I wanted to use from the Mini Strips: Easter and paired it with a bunny of many colors (using Copic Markers for the stripes) to complete the sentiment. ❤

I would send this card out any time of year, not just at Easter. 🙂 The little Pom Pom tails though–too cute!
Next up,  I have the new Jesus Script die with the Jesus Script backer die. I paired this with the sweet Pierced Lattice Cutting Plate (which I feel I am going to be using  A LOT!) and a few little flowers from the Spring Wreath dies.

I even used Lavender Glaze for this card because it seemed the right thing to do with this sentiment.

The sentiment strip is from Simple Strips: Easter Blessings. This new Simple Strips is full of lovely sentiments to use this Easter.
Next up, I have the fun new Playful Plaid Background. I decided I would stamp and emboss it in white and the use the Stencil Strips-Clouds to create another layer to the background. I don't really know how these ideas come to be as I am making things, but voila in the end, here they are! 🙂 ha!

This new background is indeed playful and I can see using for a variety of occasions. Baby cards, winter cozy cards, well, pretty much anything!
I decided I wanted to use the Peep sentiment from the  Mini Strips-Easter. And once you choose a Peep sentiment, what is one to do? Well, Peeps of course–aka The Little Bits Marshmallow Bunnies dies!  I love the iconic Peeps at Easter. And while I am not a super fan of eating them, per say, I do enjoy having one little yellow bunny Peep and biting off their ears.  shhhhh.  Oh for Peeps sake! 🙂

This would be a card which would be able to be produced in multiples fairly easily. 😉
Next up, I have the card that might possibly be my favorite of this release. This card uses the new Springtime Smiles set. And naturally, it includes the oh so cutest little stamps. I had to use this little bunny tooshie because it's too adorable!

For the card itself, I die cut and layered up lots of the TE Mini Slim goodies. I used the Petite Scallop Mini Slim Stacklets and the  Stitched Mini Slim Stacklets to create these frames/layers.
I used the carrot to create a fun background, coloring those and the bunny in with Copic Markers.  One of my favorite parts of this card though is the inside where I used the Set the Scene-Grass stencil to create a little place to stamp this sweet sentiment. (Apparently I really like this sentiment because I didn't even realize I used it twice til I had taken all my card photos–ha! 🙂

I love nobunny butt you! Can't even! 🙂 To create this green grass, I used both Granny Smith and Cilantro.

I originally thought I'd just stamp the carrots in Candy Corn and Sweet Potato Pie to create a patterned background and then I ended up coloring in all the carrots with Copic Markers. Definitely a different look that I usually create just stamping in Oreo, but a fun change! Oh I also masked a frame around the stamping/coloring so I wouldn't be outside the range of the Stitched Mini Slim Stacklets frame.
All these products are available now over at Taylored Expressions.
There's No Bunny Like You Card: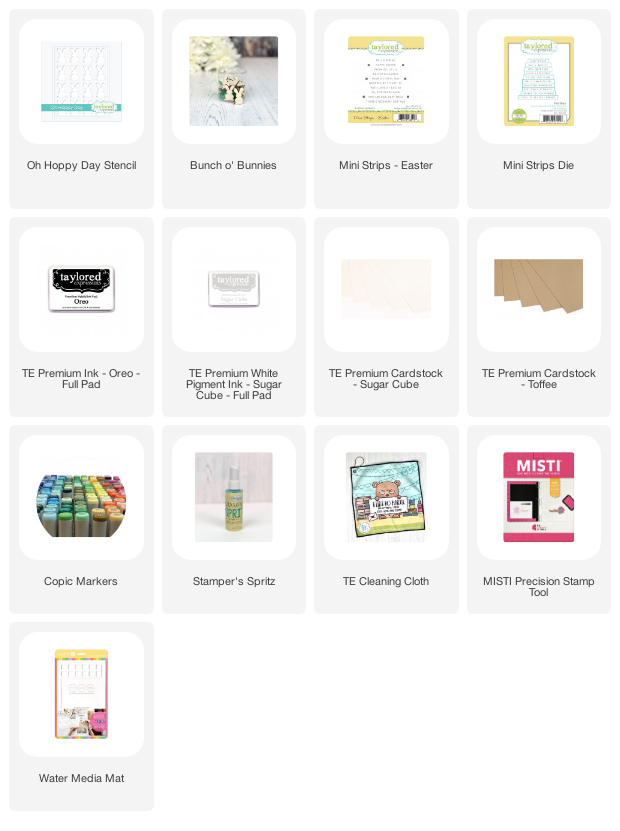 Jesus Script Card: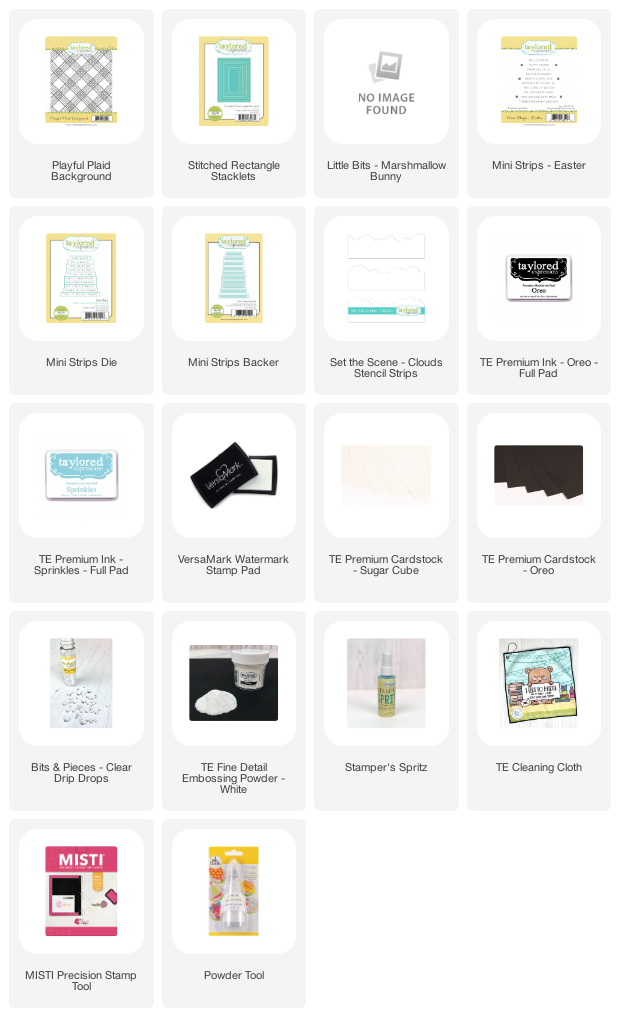 Springtime Smiles card: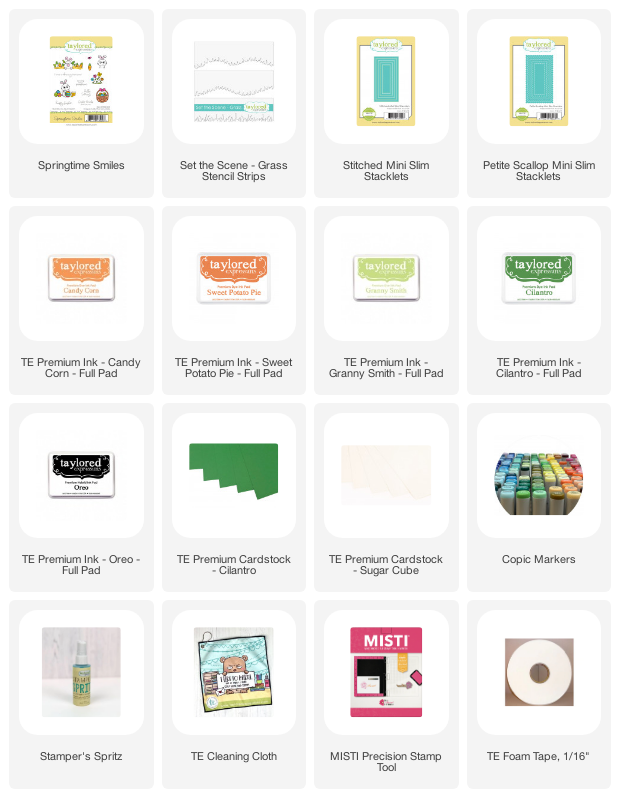 Find the TE Blog Post HERE with more crafty inspiration from the TE Creative Team! Sure to be filled with Springtime Delights—can't wait for Spring!! ❤
Thanks so much for stopping by!  Have a lovelyweek ! 🙂
Take care 🙂