The exclusives that Taylored Expressions offered with purchase of $100 or more are all NOW available for purchase! I always love this release because there are such fun things that I have been wanting and didn't snag in time. 🙂
These are the following items released:
January: Hi Hey Hello Background
February: Bursting Blooms Stamp Set
March: Itty Bitty Sentiments
April: Mixed Blooms Layering Stencil
May: Gathered Stars Die
June: Summer Vibes Background 
And the background in this list above are amongst my faves from the freebies offered at Taylored Expressions these last months!
On with my cards, shall we! For these the main fun is die cut using the Off the Hook die! Gah this is so much fun.
For all my cards, I used Lollipop, Cookie Monster and Lemon Meringue cardstock–I had to laugh because when I shared these, I couldn't help thinking 80's! The 80's called and I answered!
I stamped the Hey Hey Hello background on Sugar Cube cardstock with Earl Grey ink and pieced that on all three cards, about half way. I then added stitching to each with my machine.
The sentiments on all of these come from the Simple Strips: Snarky. Of course. Because that is one of my favorites for a laugh! 🙂
This Off the Hook die cut is super easy to use and I'm all about that. Complicated die cuts are awesome but I know myself and if it is too much, I tend to not use them as much. But this one came together 1-2-3!
I used the Diagonal Stitched Rectangles on all of these to pull the other thing together, also while framing the main event.
I have to share this quick little story, speaking of phones:
I had a little girl come into my work office the other day and ask what the phone was. I had to laugh because of course she may have never seen a phone before. I'm sure her parents have cell phones and that's that. The things you never think about. 🙂
I'm Done with People. These sentiments cracks me up and I have friends that I know fully appreciate the snarky humor as well. ❤
All these products are available now over at Taylored Expressions.
Here's the scoop from TE:
Now, through Sunday, August 29th, save 30% on our select summer favorites! If you have had your eye on some of these stamp sets, die, and stencils, now is the time to add them to your collection and save at the same time!
All Off the Hook/Hi Hey Hello Cards: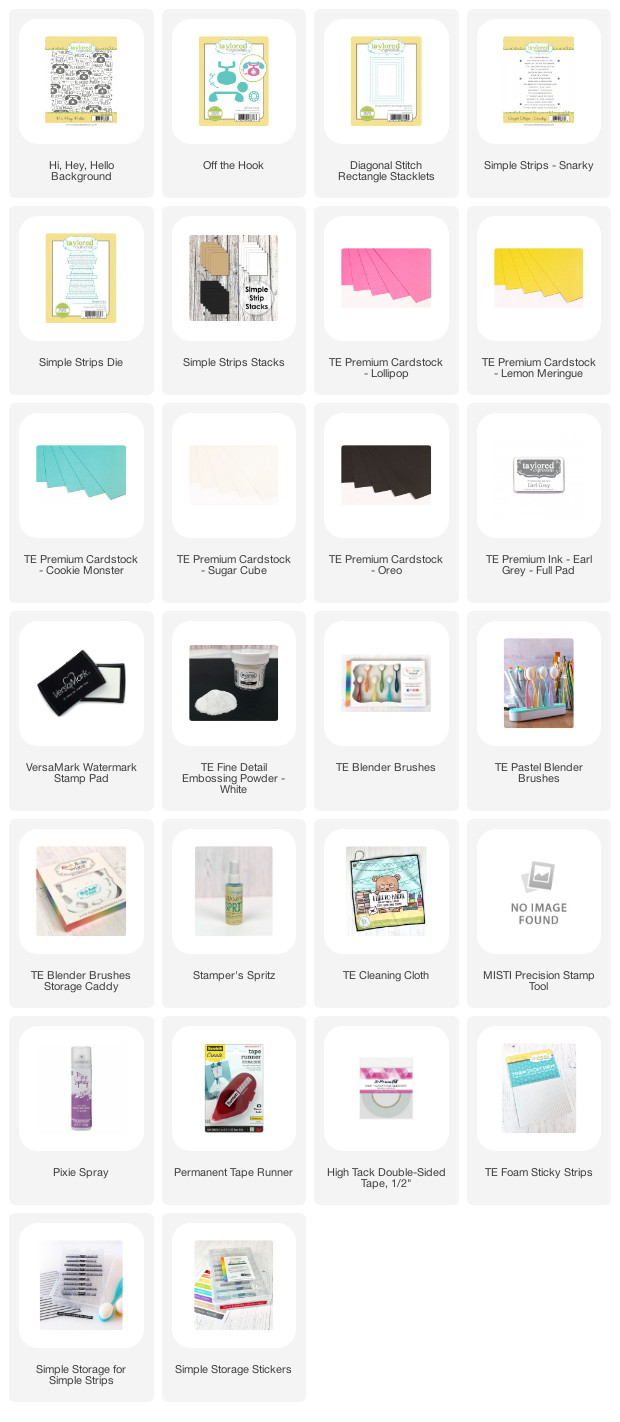 Find the TE Blog Post HERE with more crafty inspiration from the TE Creative Team!
Also, in case you missed it, TE has a new Exclusive gift available with $100 purchase. I LOVE THIS STAMP! Here are my cards using this background stamp called Sealed With Love:
Thanks so much for stopping by! It's Off the Hook! 🙂
Take care 🙂