Anyone else ready to celebrate a NEW YEAR like NEVER BEFORE? I am!! So let's get the 2021 Party started early! We are doing just that over at Taylored Expressions today… These products are available today, November 3rd! 🙂
First up, I have my main man Big Grumpy and he is SPOT on with this fun new sentiment which is a FREE Download! You must enjoy the sentiments in this set–so so funny! This one is just the truth. 🙂
I colored him with Copic Markers and added the background using the Star Masking Stencils and the little stamps from the Tag Team Birthday set. I thought it turned out so festive, especially considering how grumpy he is! ha! I also added a little Stickles Gel to the part of the Stars to give it some shimmer! 🙂 Oh, and his little hat is from the Big Grumpy-Birthday set.
Next up, is the new Party Popper Stencil. This one reminds me of popping one of those confetti things and watching it spray out! 🙂 I used the recently released Pastel Blender Brushes. ❤
And instead of being disgruntled about 2020, I went with a Hello New Year sentiment using the previously released Over the Rainbow Sentiment (for the "hello") and the NEW On Repeat: New Year!  You get a hand full of New Year sentiments all in one swoop! Dig that a lot! 🙂
I decided to make it into a shaker with the cutie's from the set Life of the Party. This card ended up screaming Party! New Year! So fun! 🙂 This would be great to receive to welcome in 2021! A party in the mail!
I have high high hopes for 2021, so here's hoping! 🙂
You can find all my supplies and links to the Taylored Expressions Shop below.
Big Grumpy New Year card: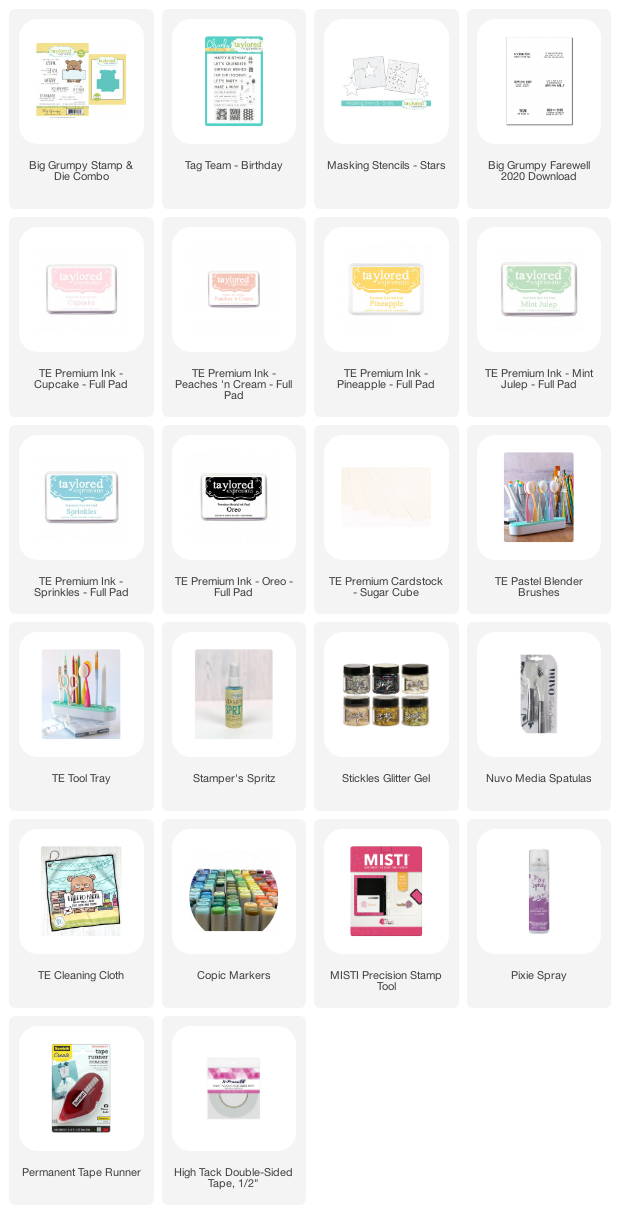 Hello New Year card:



All these products are available TODAY, November 3rd over at Taylored Expressions!

If you live in the United States, don't forget to VOTE today! 🙂
Find the TE Blog Post HERE with more inspiration from the TE Creative Team! ❤
Here's to a better year ahead–and if your 2020 was a great one, this will still be good, right?
Take care 🙂