Taylored Expressions has a New Release today and it is full of Summer Goodness–it's the 4th of July Release! 🙂 It not only celebrates all things patriotic, but it also gives us products to thank those who are serving and have served. And of course, if you take a step back and imagine all the things in different colors, they can be used for many occasions beyond the patriotic theme. 🙂
First up, we have Mr. Uncle Sam. Can we call him Mr. Uncle Sam? Not sure, but either way, these cutie little images in the Uncle Sam Stamp & Stencil Combo that Heather whipped up are perfect to celebrate!
This set is similar to those in the past, with a larger red rubber background stamp and then the stamps to fill in all the little things super easy. You do NOT need to color–love that! I mean, I love to color, but there is something satisfying about just stamping in all the fills and done! 🙂 And there are A LOT of fills to choose from. I stamped out a whole bunch, and then I ended up using three with the same top of hat fills in the uppermost row. How does that happen? haaaa! I finished this off with some stitching and some Drip Drops for added 4th of July sparkle and done! 🙂

I created the background with the Full Circle-Patriotic stamp white heat embossed. I die cut that circle out with the Stitched Circle Stacklets. To create the card base, I cut strips of cardstock and then die cut that with the Petite Scallop Square Stacklets. I popped everything together with some foam tape and added some Drip Drops for interest and boom, Happy 4th of July! 🙂
Next up, there is a SUPER fun new Rotating Stencil called: Superstar Rotating Stencil…go figure! 🙂 This gives the look of several layered stencils but with only ONE stencil! You just blend in your colors and rotate. Repeat four times and whammo! Done!
I thought it would be fun to veer off the patriotic path and make a sweet card, perfect for our son! Of course, I pulled out Gus & Gertie to help this task be executed. The NEW Building Blocks sentiments from the Building Blocks–Brave Editions helped this come together in a flash!
I used lots of colors to make this extra STARtastic! Cherry Pop, Candy Corn, Lemon Meringue, Cilantro and Blueberry.
To finish off the panel, I used the Stitched Rectangle Stacklets, along with the Diagonal Stitched Rectangle Stacklets. I love how sweet this turned out! ❤
All these products are available now over at Taylored Expressions. See my links below to make things easier. 🙂
Uncle Sam Card: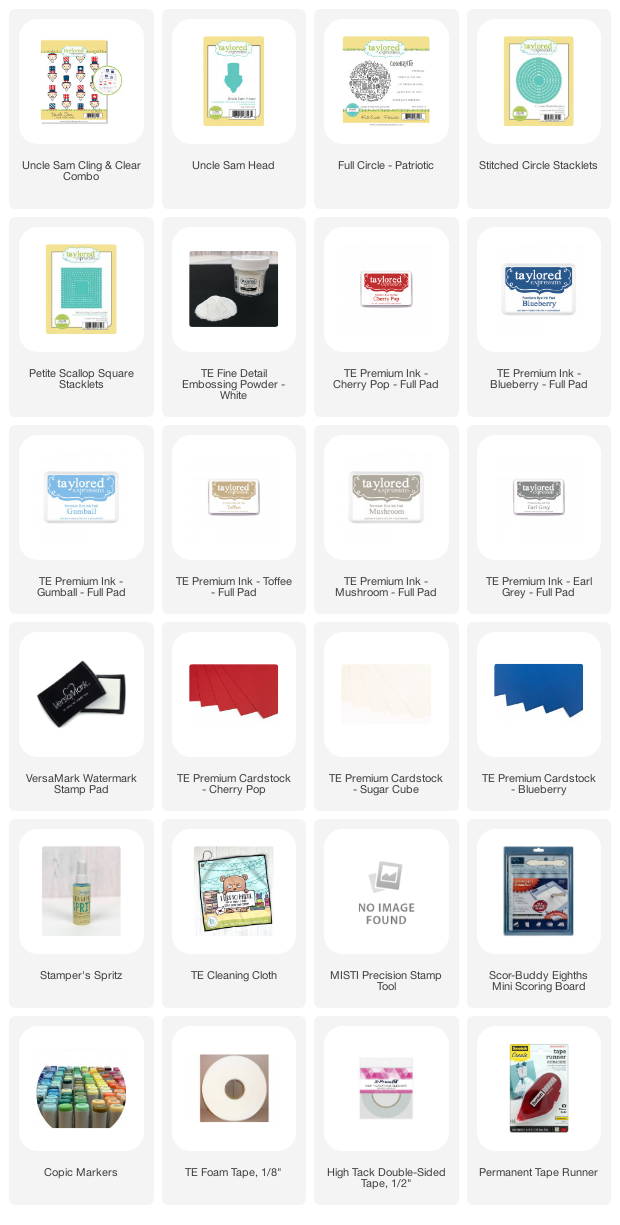 Find the TE Blog Post HERE with a burst of inspiration from the TE Creative Team!
Thanks so much for stopping by here! Happy June! 🙂
Take care 🙂