Happy Tuesday everyone! Hope you all had a good weekend and survived Monday! 🙂
Today, we are having fun sharing the New Card Kit from  Taylored Expressions! It's called the  Happy Hex Monogram Kit and it is perfect for making personalized cards to send. Or, you can make a card set and gift them! The fun little perk that they are the newer Mini Slim size makes it even more delightful.
Let's get on with the cards! First up, I made this card just using the Happy Hex Mini Slim Stencil in the kit. I started out with one color and then moved the stencil around according, blending on a new color with a different brush in each shift. These are always like little puzzles for me to figure out and I think they are fun to try 🙂
To create the panel I used the Mini Slim Stitched Rectangle Stacklets, which is from a previous TE Release.
I added the sentiment fro the Happy Hex set to simply to finish it off. I think it turned out fun and I there are so many options to make here!
Next up, I used the Hexagon Dies from the die set in the kit called Happy Hex. I cut out all different colors of TE Cardstock and spent too long arranging them. ha! I couldn't decide how I wanted it to lay out, so I'm glad in the end I finally made up my mind. And now, I have these examples to follow, if I want to make more. 🙂
I added in the graphic hex stamps in Oreo to mix it up. I'm digging the end result, especially after being away from making them for a few days. Funny how that works, right?
For the stickers on these, I heat embossed the sentiments on them. You can also use just Oreo and let them dry well or use Staz On. However, I forgot how much I don't like the smell of Staz On, so I did not go that route. (I have to laugh that is my reasoning though.)

I added a few Clear Bits to each card too to finish them off in the end.

With all these everyday sentiments to choose from, making a set was fun and simple to do.
I made a little tag using the Typewriter Alpha set and the Stitched Tag Stacklets. I added a few Hexagons and some twine and done! The clear box comes with the kit, so it couldn't come together more smoothly in the end. 🙂

Envelopes in fun colors (also included in the kit) and it is a gift ready to go!
Below are my supplies for these cards, but be SURE to keep scrolling for some cuteness BELOW! 🙂
Stencil Hex Card: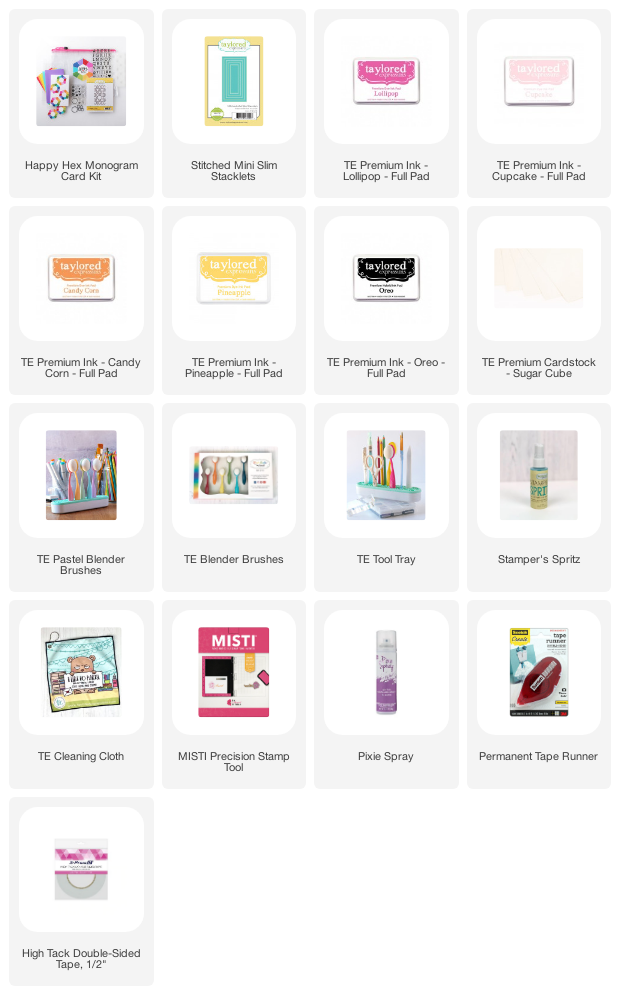 Set of Cards: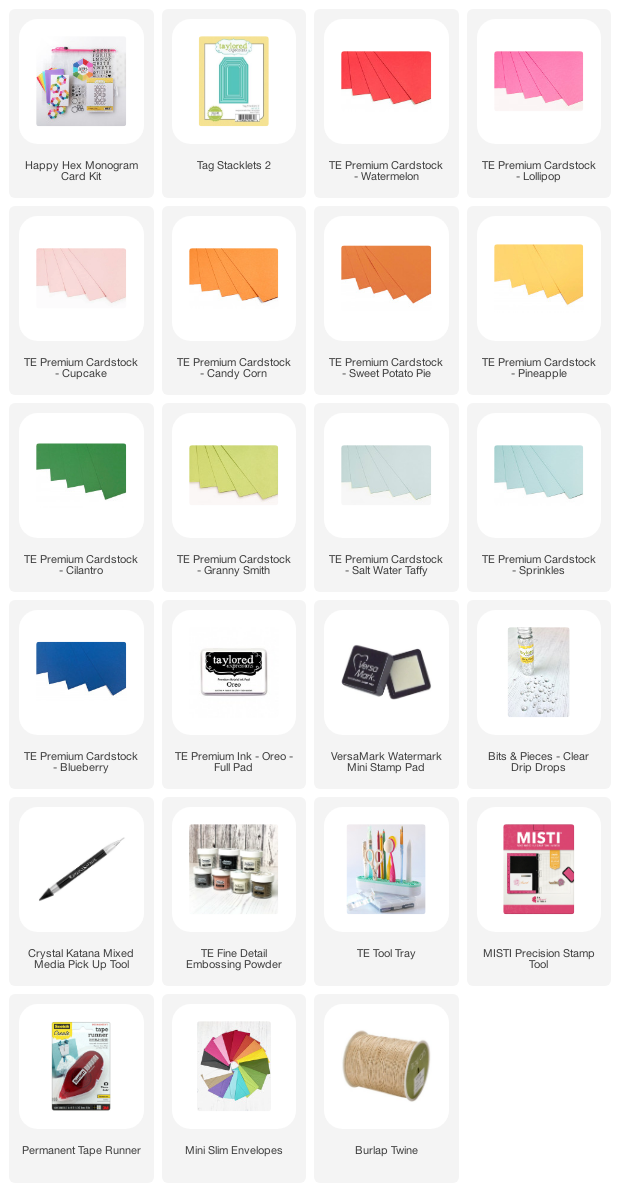 All these products are available now over at Taylored Expressions.

Here's the scoop on the Hex Kit:
Here's everything included the Happy Hex Monogram Kit – which retails for $48:
Happy Hex Mini Slim Background stamp
Happy Hex die collection
Clearly Crafty Happy Hex Add-ons stamp set
Clearly Crafty Typewriter Alpha stamp set
Happy Hex Mini Slim stencil
6 Sugar Cube Top Fold Mini Slim Card Bases
6 Custom Envelope Seals
6 Colored Mini Slim Envelopes
1 Mini Slim Clear Card Box
Packaged in a zippered pouch with a custom kit label
Next up, something super fun, especially for my kiddo! 🙂 There is a fun new kit for Kids for Valentine's Day too! This kit has the sweetest little illustrations that are both punny and fantastic to color! My son loves to have the whole paneled colored apparently. I have to giggle at that!
Here he is in his PJs crafting over his Winter Break. He is so excited about giving these out and wants to order more! I might need to get marker refills first. ha! 🙂
E decided to adhere the stickers that are included in the kit to the inside for his classmates. Or, as he likes to say, as the "prize"! Turns out this was actually Taylor's intention for the stickers, so perfect he thought the same! ❤

I am hoping he will let me color one or two myself.  shhhhh 😉
Here he is with all the panels colored, before he assembled them into the precut little "card base/envelopes".

We wanted to show the stickers could also be used to decorate the outsides too. The kit come with the Happy Valentine's Day stamp as well as To and From and sweet little hearts. Of course, E decided to omit extra hearts because he's in Fourth Grade now and a boy. ha! 🙂 Also, they generally ask them not to include a "To" on their valentines, so he omitted that little stamp.
Here he is with his collection all ready to go! Now, he just needs to make the rest and he'll be ready! They are so easy and fun to color, he is looking forward to it. Getting to use Mom's Copic Markers is also a big hit!
He'll likely take them to school in these TE Storage Boxes along with the case. ❤
It's the perfect year to have your kids makes their Valentines. I'm guessing we aren't alone in that we are home a lot more and it's great to have something creative and productive to do together. And by together, I mean, Mom gets all the supplies out and in the end, does most of the clean up. 😉 But I am ok with that because it doesn't involve any kind of screen time. Hooray!
E's Kid's Valentine Kit Cards: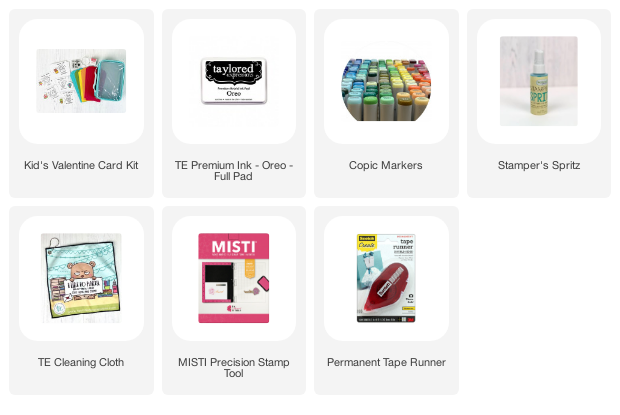 Here's the scoop:
Everything in the Kid's Valentine Card Kit that retails for $28:
25 Pre-cut Tuck & Fold Notecards – 5 each of Watermelon, Lemon Meringue, Candy Corn, Peapod, Cookie Monster
25 Pre-printed Coloring Cards (sized to fit on the inside or outside of the notecard)
1 3/4″ Acrylic Block
Mini Watermelon ink cube
25 vinyl stickers that coordinate with the Coloring Cards – use these to seal your Valentines or give them as a Valentine gift!
Small clear stamp set that includes a 'Happy Valentine's Day' sentiments, 'to:' and 'from:' words, and several small hearts
Everything is packaged in our Tag Along Tote
A Valentine Card Kit Add-on that includes the Coloring Cards, Pre-cut Tuck & Fold Notecards, and stickers (25 each) is also available to purchase.
Have fun with both these kits! We sure did! 🙂
Find the TE Blog Post HERE with more crafty inspiration from the TE Creative Team! ❤
Thanks so much for stopping by!  Have a fabulous week! 🙂
Take care 🙂
The new releases are available at Taylored Expressions today! 🙂