Today, there is a NEW Kit available over at  Taylored Expressions! The Gel Printing kit is AWESOME and really, really fun! If you have never tired Gel Press (like me) before, you're going to become quickly addicted. I couldn't stop making prints!
For all my cards, I only used the paint in the kits. You can achieve a WIDE variety of colors from just these tubes of pain, as you can see below.
This was so fun how it turned out. Be sure you relax and enjoy the process on the Gel Press. Many of us struggle with control while creating (me!) and this is not the place to worry. 🙂
Stencils ahoy! This one below is the new Willow Stencil and the one above is the new Trendy Triangles stencil.
I finished this one off the the Petite Rectangle Stacklet and some black bits.

Lastly, I used the Dizzy Daisy Stencil to really go off the rails for another fun one! It's great to try all the things when gel pressing!
All these products are available now over at Taylored Expressions. Hooray!
Here's the TE scoop:
If you love the idea of printing your own patterns in a variety of colors and designs then you're going to love what you can accomplish with our Gel Printing Kit! Gel press printing is a technique that uses a gel printing plate (a soft and sticky plate made out of a polymer material) and a medium, like acrylic paint or dye-based inks, to create artistic prints and patterns. Everything in this project kit was hand-selected by Gel Press expert Lydia Fiedler to get you started creating unique gel press backgrounds for your cards!
The Gel Printing Kit retails for $69 and includes:
One 5″ x 7″ Gel Press Plate
Five 4 oz tubes of acrylic paint (blue, magenta, yellow, pearl metallic white and titanium white)
20 sheets of Gel Press Paper (5 1/2″ x 8 1/2″)
One 4″ Soft Rubber Speedball Brayer
One 2 oz bottle of gel hand sanitizer (for removing paint residue from the plate)
A hinged Gel Press Storage Tin (7 1/4″ x 5 1/4″ x 1″) 
Once you complete your kit purchase, you will receive an email (separate from your order confirmation email) with a link to the exclusive class video on YouTube. Watch it as often as you like and learn some great gel press printing tips and tricks while discovering inspiration for more designs!
In addition to the Gel Printing Kit, we are offering a new background stamp, several new stencil designs, and packages of Gel Press Paper! You can use the new stamp and stencils with your gel press or for other paper crafting projects.
I'll be back to update all my supply lists later! 🙂
Hello Card: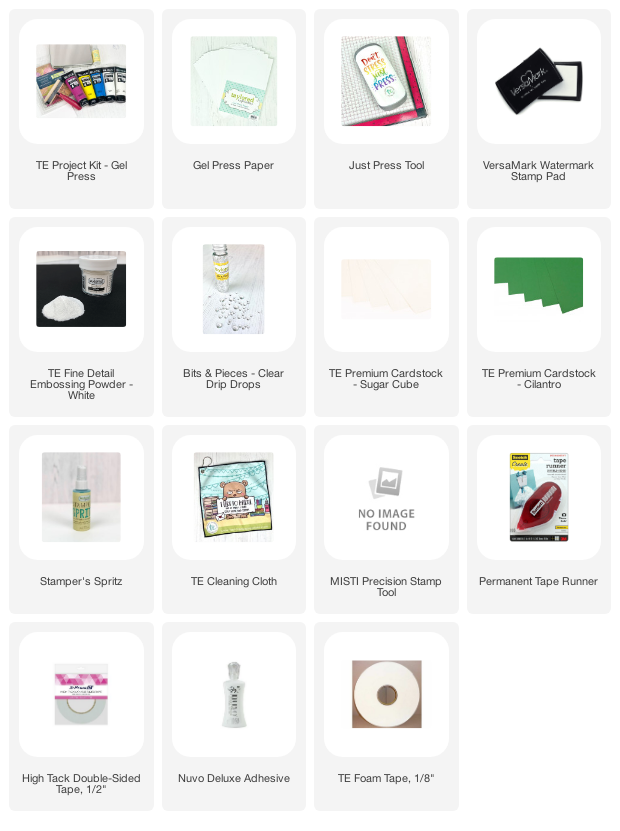 Red Hello Card:
Nope Card:
Find the TE Blog Post HERE with lots of inspiration from the TE Creative Team!
Thank you for stopping by!