Today, there is a NEW Kit available over at  Taylored Expressions. This one is moving into my top faves very quickly because it is not only sweet and delightful, but it is so easy to use and create lots of fun cards. And it seems my recent mission is to create a stack of cards all at once and have them ready to use, so this Very Cherry Kit is really helping me on that mission. 🍒🍒
First up, let's talk Rainier Cherries. I LOVE to eat these little summer gems and have yet to have a single one yet this year. How is that possible? Well, anyway, I decided I would create them on a card instead.
I wasn't entirely sure how to do this, so I just went for it using Potato Chip, Pink Champagne, and Guava on the cherries. I love how they turned out in the end. At first I was thinking the lines of ink were bugging me, but then I embraced it and now I want to recreate this effect. ha!
I wish I had stamped a few more of these at the same time. But I did create a few backgrounds, so I can fill them in easy enough someday soon! I used the overlapping sweet little heart stencil and blended on some Gumball ink. It was a risk because I wasn't entirely sure I would like the blue hearts. Thank goodness I loved the result! Phew! 🙂 I die cut that panel with the Frame in Frame 2 die (shocker, I know!). I die cut the Open Scalloped Circle in Blueberry and then stamped the sentiment on Vellum to put that in the center. This card took a little more time than the following two, but I thought it was well worth it and plan to do it again…now that I've done the harder work to figure it all out. 😉
Next up, I have these sweet little Thank You cards. I love the simplicity of these cherries and how you don't need to add too much to make them shine.
I die cut the Petite Scallop Square Stacklets to create that panel before adding the Open Scalloped Circle die from the kit. I also added several scoring details to all these pieces to give a little texture on each piece of background.
I think these could be simplified even further if you wanted or I think even making them verbatim wasn't that intensive. I have a pile of cherries stamped and ready to go on my desk, so I might just go ahead and make a few more of this design. 🙂
To polish it all off, I added some stitching and Clear Drip Drops. Oh and the stickers!!! Ahhhhhh I always adore the stickers. I have quite a stash of them now, because I rarely send a card out without them. So now, I need to grab a few more of these sweet cherry stickers too! Especially for all my summer cards! 🙂
All these products are available now over at Taylored Expressions. Here's the TE 🍒 scoop:
Here's everything included the Very Cherry Kit– which is available for $65:
Very Cherry Cling & Clear Combo set
Very Cherry stencil
Clearly Crafty Cherry on Top stamp set
Cherry on Top die collection
Open Scallop Circle die
6 Custom Envelope Seals
6 A2 Envelopes: 2 each of Cherry Pop, Strawberry Milkshake, and Peapod
Packaged in a zippered pouch with a custom kit label
Limited quantity available. Most items not available to purchase individually.
Rainier Cherry Card: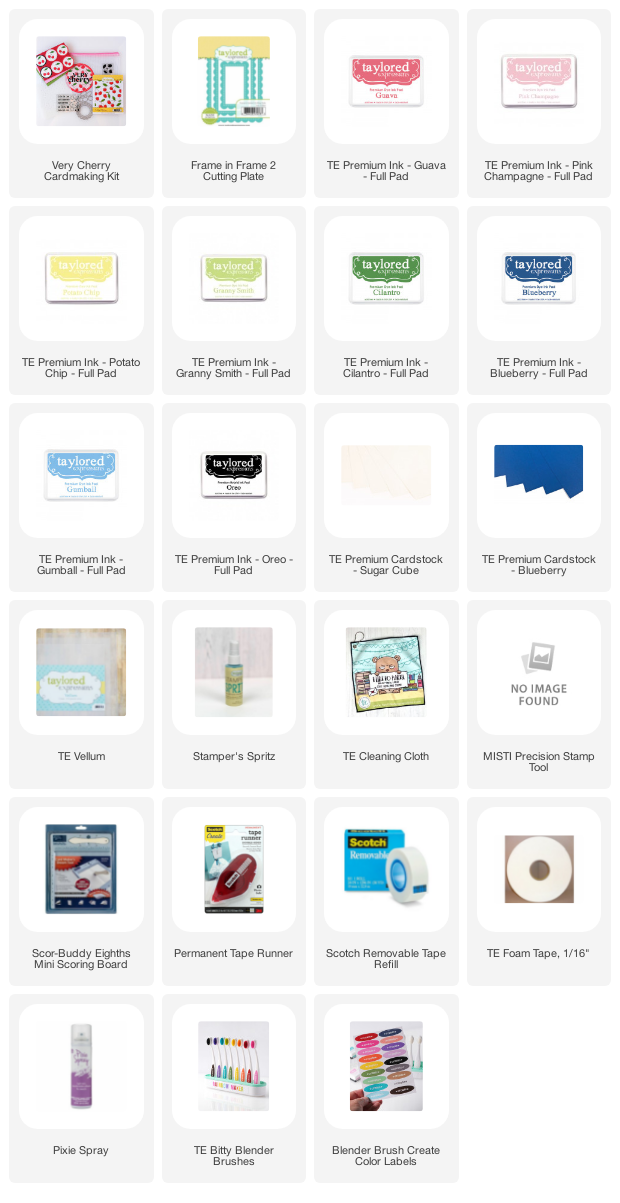 Cherry Duo Cards: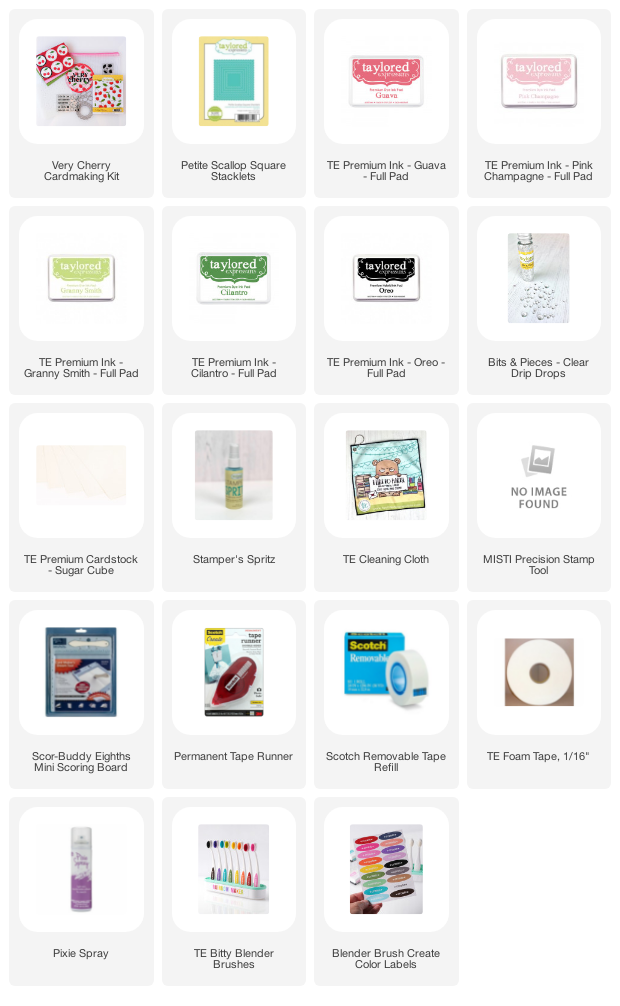 Find the TE Blog Post HERE with more cherry-ific inspiration from the TE Creative Team!
Oh and a quick little note–If you haven't seen the July gift with $100 purchase over at Taylored Expressions this month yet, I thought I'd share here. It is a SUPER FUN one! It's called the Summer Vibes Background and it is a summertastic red rubber background that is TOO FUN to stamp! 🙂 You can find the details HERE.
And I had to make two cards! If I had more time that day, I could have make a dozen! ❤
Thanks so cherry much for stopping by!
Take care 🙂